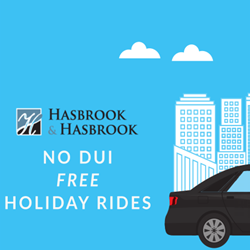 OKLAHOMA CITY (PRWEB) December 30, 2017
The attorneys at Hasbrook & Hasbrook, a personal injury law firm in Oklahoma City, are running their annual "No DUI Free Holiday Rides" program again for New Year's Eve. Oklahoma car accidents involving alcohol account for many deaths and injuries every year.
The "No DUI Holiday Rides" program gives riders credit for Uber rides in the Oklahoma City metro area on New Year's Eve. This is an annual campaign that runs on major holidays, including St. Patrick's Day, Cinco de Mayo, Independence Day, Labor Day, Halloween, and New Year's Eve.
Requirements for reimbursement can be found on the firm's website. Within seven days, riders must mail in their receipt to receive reimbursement.
Share article on social media or email: