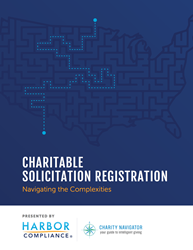 It's our hope that charities leverage this guide to educate their organizations and help manage their regulatory risk.
LANCASTER, Pa. (PRWEB) November 09, 2017
Today Harbor Compliance and Charity Navigator released Charitable Solicitation Registration: Navigating the Complexities, a guide to help nonprofits of all sizes meet state and federal regulations governing fundraising.
More than half of states require charities to register before fundraising, and 25 states have special disclosure statement requirements. Many nonprofits are unsure of the requirements, especially how they apply to online fundraising campaigns. Navigating the Complexities answers those common questions, as well as:
Are all nonprofits required to register with the state before raising funds, or are there exceptions for small nonprofits?
What activities count as fundraising?
How do professional fundraisers affect the requirements?
What regulations apply to email and online campaigns?
What happens if a nonprofit receives donations without being registered?
The guide is available online at https://www.harborcompliance.com/landing-pages/charitable-solicitation-registration-navigating-the-complexities.
Brock Klinger, Harbor Compliance nonprofit account executive, said, "A lack of information around these requirements is a major challenge for nonprofits today. Though charitable solicitation laws have been on the books in many states for decades, it's surprisingly common for nonprofit leaders to be unaware of them. It's our hope that charities leverage this guide to educate their organizations and help manage their regulatory risk."
"Compliance is a beautiful tool for ensuring that everyone is on the same page about how to work together—nonprofits, donors, and states," said Ifeoma Aduba, nonprofit compliance specialist at Harbor Compliance. "Understanding and following these requirements builds a solid foundation for organizations and donors to really explore what's possible and the impact they can have when they work well together."
Shannon McCracken, chief development officer at Charity Navigator, said, "Meeting state requirements is a fundamental way for charities to demonstrate their good standing to their donor audience. As a 501(c)(3) organization ourselves, we know very well the time and effort required to understand and manage the filing requirements. Compliance with the various state solicitation requirements is an indication that the organization is doing their due diligence, either in-house or through a specialist service like Harbor Compliance."
About Harbor Compliance
Founded by a team of government licensing specialists and technology trailblazers, Harbor Compliance is a leading provider of compliance solutions for companies of all types and sizes. Since 2012, we have helped more than 10,000 businesses and nonprofit organizations apply for, secure, and maintain licensing across all industries and activities. Our headquarters are located at 48-50 W. Chestnut St. Suite #300, Lancaster, PA.
About Charity Navigator
Charity Navigator is the largest expert charity evaluator in America. The organization helps guide intelligent giving by evaluating the Financial Health, Accountability and Transparency of charities and by providing data about 1.6 million nonprofits. Charity Navigator does not charge the organizations it evaluates, ensuring unbiased evaluations, nor does it charge the public for this trusted data. As a result, Charity Navigator, a 501(c)(3) public charity itself, depends on support from individuals, corporations and foundations that believe it provides a much-needed service to America's charitable givers. Charity Navigator can be reached at (201) 818-1288 or by mail at 139 Harristown Road, Suite 101, Glen Rock, NJ 07452.
Share article on social media or email: