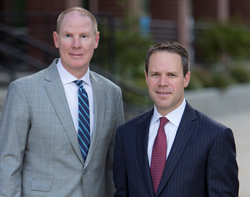 Other lawyers hold us at high regard and think that in the area of personal injury we are in the top of the group in the state of Utah.
SALT LAKE CITY (PRWEB) May 29, 2018
Personal injury attorneys Garrett and Preston Handy, founders of Handy & Handy, P.C., were recently named, for the sixth consecutive year, Utah Legal Elite for Personal Injury by Utah Business Magazine. Active members of the Utah State Bar were invited to cast votes for peers whom they consider the state's best attorneys. The top vote-getters were further vetted by a panel of senior attorneys from several firms covering multiple practice areas, representing a wealth of knowledge regarding Utah's legal community.
"We feel like it's a big honor because this is based on what other attorneys think of us," said Garrett. "Other lawyers hold us at high regard and think that in the area of personal injury we are in the top of the group in the state of Utah."
Garrett is passionate about helping his clients achieve superb results from their personal injury claims. He finds great satisfaction in his work as is able to interact one-on-one with clients in a way that validates their injuries and fosters individual relationships.
Preston has been handling personal injury cases since 1994. Over the years, he has successfully resolved several multi-million dollar catastrophic injury cases for the benefit of his clients. Preston is an active member of the Utah Association for Justice.
"After my accident, I didn't know what to do. I was lucky to find Preston and his staff at Handy & Handy. They were all very professional and more than willing to help answer any questions that I might have had. I really don't know what I would have done without them," concluded client T. Hammond.
About Handy & Handy, P.C.
Handy & Handy focuses exclusively on personal injury. Practice areas include motor vehicle accidents, wrongful death, brain injury, product liability, dog bites/attacks, slip and fall, premises liability, motorcycle accidents, auto-pedestrian accidents, bicycle accidents, skiing accidents and trucking accidents. For more information, please call (801) 264-6677, or visit http://www.handylawutah.com.
About the NALA™
The NALA offers small and medium-sized businesses effective ways to reach customers through new media. As a single-agency source, the NALA helps businesses flourish in their local community. The NALA's mission is to promote a business' relevant and newsworthy events and achievements, both online and through traditional media. The information and content in this article are not in conjunction with the views of the NALA. For media inquiries, please call 805.650.6121, ext. 361.
Share article on social media or email: