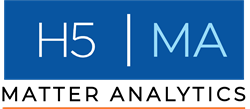 With H5 Matter Analytics, users will be empowered with powerful document analytics and new user experiences within Relativity's platform.
SAN FRANCISCO (PRWEB) September 26, 2018
H5 today announced the wide release of H5 Matter Analytics (H5MA), a Relativity-integrated product that helps users analyze and manage the review of their hosted data with greater efficiency. Previously available only to H5 clients, H5MA is now available to any law firm or corporation using Relativity.
H5MA integrates seamlessly with Relativity to provide enhanced document analytics aimed at streamlining the review process. H5MA empowers Relativity users with solutions that leverage H5's unique perspective on how to incorporate email threading, near duplicate identification, name normalization and a new linguistics-based approach for PII data identification, to maximize user control over the review process, saving time and money.    
Finding ways to reduce data volume and avoid duplicative document review effort is an ongoing challenge in eDiscovery. H5MA helps with both, leveraging review efficiencies through email threading, near deduplication, and name normalization. It also addresses the need for rapidly identifying PII using H5's proprietary language models to search for PII markers.
A key innovation of H5MA is the Thread Viewer, a visual representation of an email thread combined with a stream of the conversation itself, which allows reviewers to see the path and substance of email communications as they flow and branch through forwards and replies. With the ability to review messages as a single communication stream, reviewers realize a number of efficiencies, such as being able to apply coding decisions (such as privilege, responsiveness, and key document status) to individual messages, select branches, or entire thread groups at once.
Combined with the name normalization feature that connects disparate name variations, reviewers can apply color-coded overlays to highlight, for example, the presence of attorneys and third parties in communications, thus streamlining privilege review and logging.
"We are very excited about offering our Relativity-integrated solutions directly to the market." said Jason Richard, H5's vice president of products. "With H5 Matter Analytics, users will be empowered with powerful document analytics and new user experiences within Relativity's platform that leverage H5's linguistic and search expertise, built from our own experience and inspired by our own review technology."
The H5MA Thread Viewer has been entered in this year's Relativity Innovation Award competition for Best Innovation: Service Provider. Last year, H5 Matter Intelligence℠, a powerful billing, resource and data analytics product won that award. That product will be available for wide release later this year.
"One strength that sets Relativity apart is the community of partners like H5 who develop powerful integrations and extensions to help users streamline or customize how they use the platform," said Drew Deitch, senior manager of strategic partnerships at Relativity. "We started the Relativity Innovation Awards at Relativity Fest when it became clear that developers like H5 were as eager to solve new challenges in e-discovery and beyond as our own team."
H5 Matter Analytics will be on display at Relativity Fest in Chicago, from September 30 through October 3, or visit http://www.h5.com to request a demo.
About H5
H5 helps corporations and law firms find and manage the documents that matter in litigation and investigations by providing expert-driven, technological solutions to address the complex challenges created by electronic data. With expertise in eDiscovery, technology-assisted review and search, H5 is committed to helping clients find and manage the information they need to win cases, meet regulatory requirements and address risks by providing creative solutions that ensure fast, accurate, cost-effective results. This commitment has resulted in the development of H5 Matter Intelligence℠ and H5 Matter Analytics℠, advanced eDiscovery products that streamline review and enhance the user experience for Relativity-hosted matters. Please contact H5 at info(at)h5.com or visit https://www.h5.com.
About Relativity
At Relativity, we make software to help users organize data, discover the truth, and act on it. Our e-discovery platform is used by thousands of organizations around the world to manage large volumes of data and quickly identify key issues during litigation, internal investigations, and compliance projects. Relativity has over 175,000 users in 40+ countries from organizations including the U.S. Department of Justice, more than 70 Fortune 100 companies, and 198 of the Am Law 200. RelativityOne offers all the functionality of Relativity in a secure and comprehensive SaaS product. Relativity has been named one of Chicago's Top Workplaces by the Chicago Tribune for seven consecutive years. Please contact Relativity at sales(at)relativity.com or visit http://www.relativity.com for more information.
Share article on social media or email: