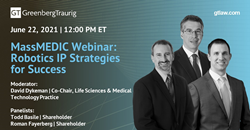 NEW YORK (PRWEB) June 17, 2021
David J. Dykeman, Roman Fayerberg, and Todd Basile, shareholders at global law firm Greenberg Traurig, LLP, will participate in the Robotics IP Strategies for Success webinar on June 22, at 12:00 p.m. EDT.
The webinar, hosted by the Massachusetts Medical Device Industry Council (MassMEDIC), will cover strategies for building a strong patent portfolio, ways to focus product development through knowledge of the patent landscape, securing ownership in and maintaining control of intellectual property, and intellectual property due diligence. Dykeman will serve as the moderator while Fayerberg and Basile will be panellists alongside Eric Feinstein, CEO, and Dr. Partha Mitra, Ph.D., Founder & Chief Scientific Advisor, both of ClaraPath Inc.
Dykeman, who serves as co-chair of Greenberg Traurig's Life Sciences & Medical Technology Practice and co-managing shareholder of the Boston office,  is a registered patent attorney with nearly 25 years of experience in patent and intellectual property law. His practice focuses on securing worldwide intellectual property (IP) protection and related business strategies for high tech clients, with particular experience in life sciences, medical devices, robotics, materials, and information technology. An author of over 50 articles and a speaker at over 45 conferences on intellectual property law, Dykeman is the founding co-chair of the ABA's Medical Devices Committee. He has also been named one of the top 250 Patent and Technology Licensing Practitioners in the world by Intellectual Asset Management (IAM) Magazine, an "IP Star" by Managing IP magazine, a "Life Science Star" by LMG Life Sciences, one of the World's Leading IP Strategists in the IAM 300, and is listed in Chambers.
Basile, a shareholder in the Intellectual Property & Technology Practice in the firm's Dallas office, helps technology companies protect and commercialize their innovations across a wide range of industries, including wearable robotics, medical devices, autonomous vehicles, and software. Basile also represents technology investors in mergers and acquisitions (M&A) deals, negotiates IP licenses and technology development agreements, and assists clients in navigating intellectual property disputes.
Fayerberg, a shareholder in the Intellectual Property & Technology Practice in the firm's Boston office, is a registered patent attorney with broad experience helping clients to strategically protect and leverage their innovations globally. Fayerberg works with clients to develop and manage worldwide patent portfolios and counsels clients in regard to freedom to operate, patent landscape, and patent infringement and validity matters. He also conducts and defends patent due diligence investigations in connection with venture capital investments, mergers and acquisitions, and licensing opportunities.
About Greenberg Traurig's Life Sciences & Medical Technology Group: Greenberg Traurig's Life Sciences & Medical Technology Group advises clients ranging from start-ups to large multinational public companies to leading research institutions. The group's attorneys work closely with clients, providing innovative legal counsel to help them achieve their objectives – from discovery through commercialization and product marketing.
About Greenberg Traurig, LLP: Greenberg Traurig, LLP (GT) has approximately 2200 attorneys in 40 locations in the United States, Latin America, Europe, Asia, and the Middle East. GT has been recognized for its philanthropic giving, diversity, and innovation, and is consistently among the largest firms in the U.S. on the Law360 400 and among the Top 20 on the Am Law Global 100. The firm is net carbon neutral with respect to its office energy usage and Mansfield Rule 3.0 Certified. Web: http://www.gtlaw.com
Share article on social media or email: