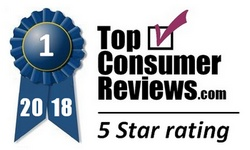 For all these reasons, we're pleased to award SimpleCitizen our highest rating in 2018 for Green Card Services.
Overland Park, KS (PRWEB) May 09, 2018
TopConsumerReviews.com recently gave a best-in-class 5 star rating to SimpleCitizen, a digital immigration, green card, and visa solution leader.
For those people who weren't born in the United States, or to a parent who is a citizen of the U.S., the way to become a U.S. citizen is through a process called Naturalization. Once naturalized, a person receives a Green Card that enables them to live and work legally in the United States. However, the process to obtain a Green Card can be complex, time consuming, and filled with frustration – often taking months or even years to complete. That's why many immigrants have turned to online services that can help them navigate through the confusing naturalization waters. These services range from do-it-yourself helpful advice to full-service assistance complete with personalized attorney reviews, and can greatly reduce the time and cost of naturalization.
"Every year, over 1 million people apply for a green card to become a United States citizen", according to Brian Dolezal of TopConsumerReviews.com, LLC. "For all of these people wishing to immigrate to the United States, their first stop should be with SimpleCitizen. This company has brought the power of the digital age to bear on the naturalization process. Their easy-to-use online interview-style questions have transformed what was once a confusing jumble of forms and rules into a simple, straightforward process. They even provide professional immigration attorneys who review the application for accuracy before it ever gets submitted. For all these reasons, we're pleased to award SimpleCitizen our highest rating in 2018 for Green Card Services.
To find out more about SimpleCitizen and other Green Card assistance providers, including reviews and comparison rankings, please visit the Green Cards category of TopConsumerReviews.com at https://www.topconsumerreviews.com/green-cards/
About SimpleCitizen
Founded in 2014, SimpleCitizen is a digital immigration and visa solution designed to streamline the pathway to citizenship. As the only truly comprehensive solution, its straightforward process takes applicants from signup to completion, while saving them time and money along the way. Already, SimpleCitizen software has allowed thousands of immigrants to achieve their American dream while saving millions of dollars in unnecessary legal fees. You can think of SimpleCitizen as TurboTax for immigration.
About TopConsumerReviews.com
TopConsumerReviews.com, LLC is a leading provider of reviews and rankings for thousands of consumer products and services. From Green Cards to Background Checks and Personal Loans, TopConsumerReviews.com delivers in-depth product reviews in order to make purchasing decisions easier.
Share article on social media or email: