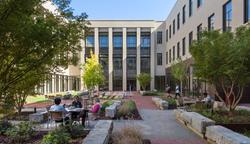 The 300-seat ceremonial courtroom will periodically host U.S. Court of Appeals sessions and also serve as an auditorium and large classroom.
COLUMBIA, S.C. (PRWEB) November 29, 2017
Gilbane Building Company was recently honored by ENR Southeast as 2017 Best Project in Higher Education for the University of South Carolina School of Law project in Columbia, South Carolina.
The three-story facility, featuring a limestone and brick exterior, has four "wings" located around an interior courtyard. One wing is dedicated to classroom space and another to a two-story law library containing modern compact shelving to maximize space for quiet study and accommodate a large reading room and 20 group study rooms overlooking the courtyard. The courtyard, which is designed to offer collaborative space for the students, features salvaged granite blocks dating back to Civil War history that were part of Columbia's old Central Correctional Institution, a prison that was closed in 1994.
Featuring the Karen J. Williams Courtroom, named for a late USC law school alumna who became the first female chief judge at the Fourth Circuit Court of Appeals, the 300-seat ceremonial courtroom will periodically host U.S. Court of Appeals sessions and also serve as an auditorium and large classroom.
Through expanding local outreach and contracting opportunities, Gilbane was able to achieve 42 percent MWBE participation, including women, and 28.59 percent African American owned business participation—numbers exceeded the University's expectations and also achieving participation levels not achieved on a large project on the campus previously. Gilbane achieved the numbers by awarding contracts to 19 first- and second-tier Minority Business Enterprises directly as part of the firm's overarching mission for capacity building and creating long term impact in the Columbia market.
"When a project team, which includes the owner, end user, design team, and subcontractors, truly create an atmosphere of teamwork and working towards a common goal of building the highest quality project in the safest manner possible you can achieve great things. And receiving ENR Southeast's Higher Education Best Project serves as affirmation of that goal." said David Dewar, senior project executive for Gilbane Building Company.
Other amenities include student service offices, a bookstore, an eatery, and a student commons area for conversation and collaboration adjacent to the courtyard. The project is targeting LEED Silver certification and features sustainable elements such as dynamic horizontal and vertical metal sunshades to block direct sunlight that will keep the building cool naturally. Its green design allows for the building's interior to be swathed with natural light improving the classroom environment which often contains minimal natural light due to presentation requirements.
ENR Southeast honored the Best Project winners at an awards ceremony at the Omni Orlando Resort at ChampionsGate in Orlando, Florida.
About Gilbane Building Company
Gilbane provides a full slate of construction and facilities-related services – from pre-construction planning and integrated consulting capabilities to comprehensive construction management, general contracting, design-build and facility management services – for clients across various markets. Founded in 1873 and still a privately held, family-owned company, Gilbane has more than 50 office locations around the world. For more information, visit http://www.gilbaneco.com
Share article on social media or email: