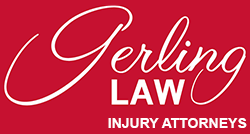 Gerling Law has served the Owensboro area for over 30 years but without the convenience for our Owensboro area clients of a physical location in town.
Past News Releases
OWENSBORO, Ky. (PRWEB) October 20, 2017
Recently, Gerling Law held a ribbon cutting ceremony with the Owensboro Chamber of Commerce for the official opening of their newest location at 2645 Frederica Street Suite 200-A in Owensboro, KY 42301. Most of the law firm was in attendance and celebrated afterwards at Fetta Specialty Pizza in Owensboro, KY.
"Gerling Law has served the Owensboro area for over 30 years but without the convenience for our Owensboro area clients of a physical location in town," said owner and managing attorney Gayle Gerling Pettinga, who has been practicing law for 30 years. "With the recent growth of Owensboro and increasing number of clients in the Owensboro area, it made sense for Gerling Law to put an attorney in Owensboro on a full-time basis."
Fortunately, the firm hired long-time Owensboro native attorney Nikki Roby several years ago, who is the perfect person to represent the firm in its Owensboro office. Owensboro is a vibrant city doing exciting things, such as establishing Smothers Park, the new Convention Center and the International Blue Grass Music Center. "Gerling Law wants to be part of the excitement and make a commitment to the community that we have served for so long," added Gerling Pettinga.
The new Owensboro office will serve clients needing quality legal assistance with personal injury compensation and Social Security Disability benefits. Gerling Law also has locations in Evansville, IN, Indianapolis, IN, and Louisville, KY.
In September, Gerling Law became official members of the Owensboro Chamber of Commerce and attended their first Rooster Booster Breakfast. Attorneys Gayle Gerling Pettinga, Neal Anderson, Nikki Roby, and Bob Rock met with the featured speaker, president and owner of Happy Feet Slippers, Pat Yates, along with other chamber members.
"The Owensboro Chamber of Commerce has been such a great resource. Everyone at the Chamber has been so supportive of Gerling Law," concluded Gerling Pettinga.
About Gerling Law
For over five decades, Gerling Law has pursued justice and fair compensation for people who have been injured by someone's actions or neglect, along with people who can no longer support themselves because of an illness or injury. Practice areas include personal injury, medical malpractice and Social Security disability. Gerling Law has four locations: 519 Main Street, Evansville, IN 47708; 120 East Market Street, Suite 1271, Indianapolis, IN 46204; 4965 U.S. Highway 42, Suite 1000, Louisville, KY 40222; and 2645 Frederica Street, Suite 200-A, Owensboro, KY 42301. For more information, please call (888) 437-5464, or visit http://www.gerlinglaw.com.
About the NALA™
The NALA offers small and medium-sized businesses effective ways to reach customers through new media. As a single-agency source, the NALA helps businesses flourish in their local community. The NALA's mission is to promote a business' relevant and newsworthy events and achievements, both online and through traditional media. The information and content in this article are not in conjunction with the views of the NALA. For media inquiries, please call 805.650.6121, ext. 361.
Share article on social media or email: