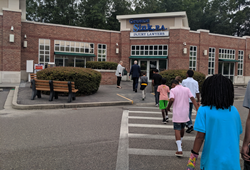 CHARLESTON, S.C. (PRWEB) August 07, 2019
George Sink, Sr. and George Sink, P.A. Injury Lawyers have been protecting the rights of injured people for more than forty years, and he continues to honor his commitment to the community by giving back whenever the opportunity presents itself.
On August 2, 2019, Mr. Sink and his staff welcomed a group of young men from the Windwood Farm Home for Children, Inc. to the George Sink, P.A. Injury Lawyers office at 7053 Rivers Avenue. They toured the office from 10:00 am to 11:00 am and enjoyed lunch together from 11:00 am to 12:00 pm. During that time, Mr. Sink was joined by Chief Reginald L. Burgess, the North Charleston Chief of Police, and Pastor Lance Johnson of the Revelations of Christ Church and Partners for a Better Community. They spoke with the boys, provided inspiration, and answered questions. After lunch, the law firm even gave each of the boys a backpack and an Amazon Fire 7 tablet.
George Sink, Sr. understands that many of the boys at the Windwood Farm Home for Children, Inc. have experienced traumatic events during their early years that can make their transition into adulthood difficult. His mission is to encourage and inspire the boys to be committed to achieving their dreams despite any obstacles they may have to overcome.
"Being successful in life requires overcoming obstacles and realizing that success is achievable through hard work and dedication to a goal. Experiencing what success looks like early in life can influence their choices as they get older," said Mr. Sink. To that end, Mr. Sink partnered with Chief Burgess and Pastor Johnson to show the boys that they have access to people who can help them define and meet their goals, which inevitably leads to a more promising future.
Windwood Farm Home for Children, Inc. has helped orphaned children since 1985 and provides therapeutic residential services to children throughout South Carolina. They also provide family services, outpatient services, community-based services, rehabilitative behavioral health services and family engagement.
About George Sink, P.A. Injury Lawyers
George Sink, P.A. Injury Lawyers represents people who have been injured in car accidents, those injured on the job, and other types of incidents.
Primary Office
7011 Rivers Avenue
Charleston, SC 29406
843-628-0100
Share article on social media or email: