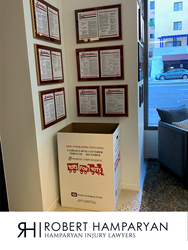 I think that this is one good deed we can easily do this season... our office welcomes everyone who has something to give to these kids.
SAN DIEGO (PRWEB) November 07, 2018
Amid the tidy desks and bustle of an active law firm in downtown San Diego, two large boxes sit on the floor, greeting people with cheerful signage. Inside these open boxes are stuffies, dolls, action figures and other items that are going to bring joy to disadvantaged children this holiday season.
This is the office of Hamparyan Injury Lawyers, a personal injury law firm that has recently partnered with the charity Toys for Tots.
As a charity partner, the law firm serves as a convenient downtown San Diego drop-off location for new, unwrapped toys and books from kind-hearted donors. These donations will then be forwarded to the local Toys for Tots center, which will sort the items and then distribute them to less-fortunate children in the community on Christmas.
It's an unconventional move for a business who people often associate mostly with insurance claims and courtroom trials. But lead attorney Robert Hamparyan is very enthusiastic about the endeavor.
"In our line of work, we've seen how children can be both physically and emotionally vulnerable after an unexpected accident impacts the family. During hard times, kids could use a tangible gesture of kindness," he explains. "And what could be more tangible to a child than a new toy?"
Hamparyan Injury Lawyers supports other charities as well. The firm proudly sponsors the Robert Hamparyan Injury Scholarship, which every year provides financial assistance to a college student whose family has experienced financial hardships. As well last year the firm collected pet food and other pet supplies to donate to the Helen Woodward Animal Shelter's program AniMeals which helps elderly low-income pet owners with the cost of feeding their pets.
For now, however, the Toys for Tots campaign takes the spotlight. Clients, guests and passersby are already taking notice of the firm's toy boxes, and a number have made it a point to bring donations on their next visit, especially after recognizing the charity.
Toys for Tots is a top-rated nationwide charity created by the US Marine Corps. It emphasizes community action, which means that toy collection and distribution is done within the local community. The Marine Toys for Tots Foundation oversees the charity activities and works with social welfare agencies and other related groups to identify child recipients and help distribute donations.
Since its establishment in 1947, Toys for Tots has given 548 million toys to 251 million kids of underprivileged backgrounds. Just last year, the annual holiday campaign gave 18 million toys to 7 million children.
"It's a wonderful initiative," says Robert Hamparyan. "A simple but effective way to make life a little brighter for our little ones."
Hamparyan Injury Lawyers will continue to accept donations until just before Christmas. Their office is located in downtown San Diego at 275 W. Market Street.
"I think that this is one good deed we can easily do this season," Hamparyan says. "Our office welcomes everyone who has something to give to these kids."
About Hamparyan Injury Lawyers
Hamparyan Injury Lawyers is a highly trusted Southern California personal injury law firm that handles injury cases such as car accidents, bicycle or motorcycle crashes, pedestrian injuries, trucking accidents, boating accidents, brain and spinal cord injuries, wrongful death and more. The firm can be contacted by calling (619) 550-1355 or by visiting https://www.hamparyan.com/.
Hamparyan Injury Lawyers
275 W Market St #1000
San Diego, CA 92101
Share article on social media or email: