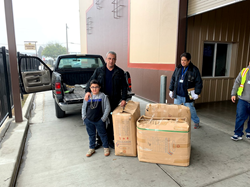 Over the past couple years I've told anyone who would listen about how our industry can contribute to the local community and positively affect the lives of its residents
Past News Releases
FRESNO, Calif. (PRWEB) December 29, 2018
Today Central Valley Greenhouse Inc. announced that it had committed financial resources and personnel support to Poverello House to help enrich the lives of Fresno's most economically disadvantaged people.
George Boyadjian has long been an advocate for bringing regulated cannabis to Fresno. Through his firm 420 College, he has educated thousands of entrepreneurs on industry best practices and helped numerous operating companies to comply with local regulations across California.
But his goal has always been to operate a licensed cannabis business in his adopted hometown of Fresno. He recently formed Central Valley Greenhouse to compete for one of only seven such dispensary licenses that are to be issued next year.
Mr. Boyadjian said, "Over the past couple years I've told anyone who would listen about how our industry can contribute to the local community and positively affect the lives of its residents. Today, before the first license is even granted in Fresno, we are taking our first step in making good on that commitment."
Mr. Boyadjian urges the community to join representatives of 420 College and Central Valley Greenhouse at Poverello House throughout the weekend to hand out toys, blankets and warm clothing for Christmas.
About Central Valley Greenhouse, Inc.
Central Valley Greenhouse Inc., a subsidiary of Emerald Spectrum Holdings Inc. has been formed to operate Fresno's leading medical cannabis dispensary. Learn more about our businesses by visiting our website or by giving us a call.
About Poverello House
Believing in the dignity of every person, at Poverello House we work to enrich the lives and spirits of all who pass our way by stewarding the resources made available to us through Providential and community support.
For more information please contact:
Central Valley Greenhouse Inc.
Justin Galindo, 855-420-8255, staff(at)420college(dot)org, http://emeraldspectrumholdings.com
Poverello House
Kristina Flores, 559-498-6988 ext 105,
kflores(at)poverellohouse(dot)org, https://poverellohouse.org
Share article on social media or email: