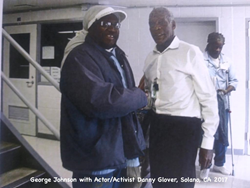 "Freedom is never voluntarily given by the oppressor; it must be demanded by the oppressed." Martin Luther King
LOS ANGELES (PRWEB) July 19, 2020
FreeGIproject.org is demanding justice in the investigation for another George. George Johnson appeals the Los Angeles Court denial mandate, case number P8039081.
I shall be set free, is the declared oath that independent film, television, and record producer Mr. G.I. Johnson of Geesawn Irie productions of Cincinnati, Ohio remains focused on as he appeals for his freedom while serving a sentence of a thirty-three year imprisonment at California State prison in Chino,California.
The appeal alleges Mr. Johnson, while working on a production in L.A. on June 29th, 2001,
was racially profiled and falsely arrested for DUI. Within the course of the arrest by California Highway Patrol officers Richard Cheever and Ephraim Moore, the appeal alleges Johnson had willingly submitted to all the officers' commands before he became a victim of brutality, which resulted in Johnson being wounded by gunfire delivered by Officer Cheever.
Johnson appeals the Los Angeles Court denial mandate, case number P8039081 of the April 7th, 2020 filed writ of mandate, which exhibits 90 pages of supporting documents with copies of complaints, letters, and the responses, of L.A.P.D. chief Bratton, L.A Mayor Hahn, and commander Lillo, all in-office or positioning in 2005.
Struggling to stay coronavirus free in prison, Mr. Johnson maintains he is an innocent man fighting a potential death sentence. As his family and friends seek justice and a federal investigation into the alleged conspiracy to cover up his accused of crimes. Mr. Johnson contends that he is blessed to be alive and knows totally that with patience, faith, and a good measure of true justice, he unquestionably will be set free without delay.
SB 1421, Senate Bill 1421, or Peace Officers: Release of Records, is a California state law that makes police records relating to officer use-of-force incidents, sexual assault, and acts of dishonesty accessible under the California Public Records Act, this was introduced by senator Nancy Skinner. SB 1421 was passed in 2018 and went into effect on January 1, 2019.
As of 2020, Johnson has requested the L.A.P.D. internal affairs investigation and the reports that were conducted in 2005 of complaints filed by Johnson.
For more information and additional details please visit FreeGIProject.org!
For questions or comments contact FreeGIProject.org or Mrgshawnjohnson@gmail.com
Share article on social media or email: