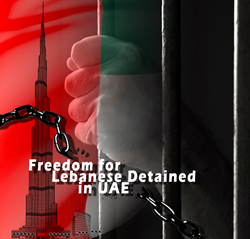 The UAE authorities reveal in their treatment of these men just how unwilling they are to reform their unjust state security apparatus. These men deserve, at the very least, to be treated humanely and to receive a fair trial
BEIRUT (PRWEB) May 13, 2019
Families of eight Lebanese Shia nationals detained in the UAE have started an online petition, and called on the Emirati government to grant a fair trial to their family members held in solitary confinement and denied access to legal and consular support for over a year. The group are due to be sentenced on 15th May 2019 at Abu Dhabi Federal Appeal Court under case number 32/2018.
Concerns about the welfare of the group, seven of whom held senior positions at Emirates Airlines for around fifteen years, have grown steadily since their arrests between December 2017 and February 2018, when they were accused of forming and financially supporting a cell with links to Hezbollah.
Since that time, the group's families have not been allowed to see the defendants' charge sheets or any other case files, while the groups' lawyers report being forbidden from discussing the case in any detail with the families and were not allowed to meet their clients in person or speak to them even after they had submitted their notice of defence.
Lebanese government officials told families that the Emirati government did not respond to multiple requests from them seeking reasons for detention and details of the charges. Until recently, the Lebanese government maintained silence over this case and made no public comments or announcements. In a Ramadan message to the UAE leadership on Tuesday, Lebanese Foreign Minister Gebran Bassil called for the eight to be granted amnesty.
The detainees, most of whom do not know each other, were not formally informed of the charges against them until 27 February 2019 in the second session of their trial, and still have not been presented with any evidence to support the case against them. The group's lawyers have suggested that the prosecution's case is almost entirely based upon verbal accounts coerced from the group during their incarceration.
Human Rights Watch called on the Emirati government to grant a fair trial and ensure that no statements obtained under duress are used as evidence of guilt. Amnesty International issued an urgent action and later said in a press release that the terrorism trial is unfair and based on fabricated confessions obtained under torture.
In accounts that bear striking similarities to that of Matthew Hedges, the British academic falsely accused of spying by the Emirati government, at least three of the detainees report being forced to sign documents while blindfolded and under duress. One of the defendants has said he was forced to sign a blank piece of paper. On 3 April 2019, two of the detainees told the court during the fourth hearing of their trial that they had been subjected to torture.
A family member of one detainee said: "His teeth were all broken, and his ear looked mangled. He said it was from all the beatings he got to the face. He said that after he fell unconscious one time, they continued to kick him. For five days, he wasn't allowed to sit or sleep. He was chained and his eyes were covered. Until this day, when he leaves his cell, he is blindfolded."
Sarah Leah Whitson, Middle East Director at Human Rights Watch, said: "The UAE authorities reveal in their treatment of these men just how unwilling they are to reform their unjust state security apparatus. These men deserve, at the very least, to be treated humanely and to receive a fair trial."
In 2016, one Emirati and two Lebanese men were handed life sentences, while four others were jailed for 10 to 15 years under similar charges of establishing a cell linked to Hezbollah and disclosing UAE government's secrets. At least one of the convicted men reported being severely tortured and forced to confess.
Emirati prisons are notorious for their primitive conditions and violence, and the detainees' families report seeing signs of severe psychological distress in their relatives behind bars. With the detainees' final hearing fast approaching, the families are urging Western media to help raise awareness of their plight and maximise the chances of a fair trial.
Share article on social media or email: