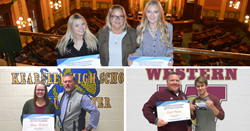 "Our hope is to get these powerful distracted driving messages shared among as many high school students as possible to impact their decisions and stop this potentially deadly driving behavior." - Steven Gursten
FARMINGTON HILLS, Mich. (PRWEB) October 25, 2018
Michigan Auto Law announces the winners of its 2018 Kelsey's Law Distracted Driving Awareness Scholarship.
A total of $5,000 in college scholarships is being awarded among our four winners for the creative and persuasive messages they created via video, graphic and Tweet to help to educate teen drivers about the dangers of distracted driving.
Significantly, the winners hail from Shelby Township, Brooklyn, Parma and Flint.
Michigan Auto Law attorney and principal Steven M. Gursten explained why the law firm's attorneys created the scholarship, which is open to current high school students and recently graduated students from all over Michigan.
"Our hope is to get these powerful distracted driving messages shared among as many high school students as possible to impact their decisions and stop this potentially deadly driving behavior," said Gursten.
The Kelsey's Law scholarship was created to honor the life and memory of Kelsey Raffaele, and the incredible work of her mother Bonnie, who inspired and worked with lawmakers in the Michigan Legislature to enact Kelsey's Law (Public Act 592 of 2012). The law prohibits cell phone use by teen drivers with a Level 1 or 2 graduated license. A teen driver who violates this law by using a cell phone would receive a civil infraction.
After Kelsey's horrible and untimely death from distracted driving when she was only 17 years old, Kelsey's mother Bonnie Raffaele of Sault Ste. Marie has worked tirelessly to raise awareness of just how dangerous distracted driving is, emphasizing the even greater risk it poses for teen drivers.
"Kelsey had a heart bigger than the universe and she would have been thrilled that this contest is in her honor," Bonnie Raffaele said. "If we can save just one life out of this tragedy, then our job has been done."
Importantly, the announcement of the Kelsey's Law Distracted Driving Awareness Scholarship winners coincides with the beginning of National Teen Driver Safety Week, the annual NHTSA campaign, designed to encourage all parents to talk to their teen drivers about the rules of the road.
Below is information about the four winners and their winning submissions:
Best Overall Winner: Isabel Wallace – Eisenhower High School, Shelby Township, MI. Isabel graduated from Eisenhower High School in Shelby Township this past June and is a freshman at Michigan State University. She used humor to create a video message showing how difficult it is for teens to do two things at once – especially something like driving while using the phone where the stakes can be life or death. He video was particularly compelling given the widely-held, albeit very mistaken, belief that so many people have that they can safely multi-task when driving behind the wheel.
Best Video: Mikaylah Duffield – Columbia Central High School, Brooklyn, MI. A freshman at Lansing Community College, Mikaylah graduated in June from Columbia Central High School, south of Jackson. Mikaylah's video depicts a distracted teen driver who fails to see a skateboarder in the roadway until it's too late, resulting in serious injuries to both the skateboarder and a passenger in the distracted driver's car.
Best Graphic: Caleb Warner – Western High School, Parma, MI. Caleb, a senior at Western High School just west of Jackson, created a graphic that helps teen drivers visualize how dangerous distracted driving is. Using an image of a child in front of the car, Caleb makes an emotional plea for safe driving with the caption: "It won't kill your friend if you put the phone down, but it might cost someone else their life if you don't…"
Best Tweet: Jenna Robinson – Kearsley High School, Flint, MI. Jenna currently attends Kearsley High School, northeast of Flint, where she's a senior. In her winning, Tweet, Jenna talked both poetically and prophetically about the dangers faced by texting teen drivers: "For every glance away, there's a larger price to pay. Don't take the chance. Stop driving distracted NOW."
"As an auto accident attorney, I'm seeing more and more of these distracted driving car accident cases, especially involving teenage drivers. Myself and the attorneys at my law firm want to do everything we can to prevent them," Gursten explained.
He added that he hoped that opportunities like the Kelsey's Law Scholarship will help to combat and reverse the grim statistics about the distracted driving dangers faced by teen drivers:
Motor vehicle crashes are the leading cause of death for U.S. teens, according to the Centers for Disease Control and Prevention (CDC).
"Nine percent of all drivers 15 to 19 years old involved in fatal crashes were reported as distracted at the time of the crashes. This age group has the largest proportion of drivers who were distracted at the time of the fatal crashes." ("Distracted Driving 2015," NHTSA Traffic Safety Facts/Research Note, March 2017)
To view more details about each winner and their submissions, please check out our blog post and our 2018 Kelsey's Law Scholarship Winners page.
The 2019 Kelsey's Law Scholarship — Stop Distracted Driving Contest is now open for submissions. The deadline to apply is August 31, 2019. To apply, visit our Kelsey's Law Scholarship page.
Michigan Auto Law attorneys and legal experts have been featured in local, state and national publications. They are selected for their expertise in auto law matters. If you are in the media and would like to speak with an expert for your story, contact Todd Berg at (248) 353-7575 or TBerg(at)michiganautolaw(dot)com.
About Michigan Auto Law
At Michigan Auto Law, our lawyers practice exclusively in helping people who've been hurt in car truck, and motorcycle accidents in the state of Michigan. More than 98 percent of our lawsuits resolve in substantial settlements, because our focus is combined with an excellent trial record that defense attorneys pay to avoid, including the top-reported auto accident jury verdicts and settlements in Michigan.
Michigan Auto Law has offices in Farmington Hills, Detroit, Sterling Heights, Grand Rapids and Ann Arbor. For more information, visit https://www.michiganautolaw.com or call (800) 968-1001.
Contact Information
Todd Berg
Michigan Auto Law
https://www.michiganautolaw.com/
+1 (800) 968-1001