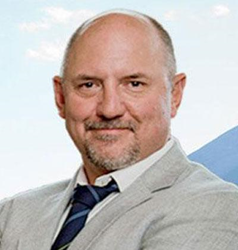 The Elite Lawyer Award speaks highly of how well each nominated attorney is perceived by their legal community.
FORT COLLINS, Colo. (PRWEB) November 14, 2018
Attorney Darby Hoggatt, of Hoggatt Law Office, P.C., has been honored with a 2018 Elite Lawyer Award for the area of personal injury. The Elite Lawyer rating service recognizes attorneys who display a high level of competence in their practice and receive acknowledgment from their peers, community, bar and committees.
Attorney Darby Hoggatt founded Hoggatt Law Office, P.C., in 2002. He has helped many clients receive personal injury compensation for vehicle and pedestrian accidents, including those involving drunk driving, distracted driving, and rideshare services. His services also include representing clients making wrongful death and worker's compensation claims.
Hoggatt is a member of the Colorado Trial Lawyers Association and the Workers' Compensation Education Association. He was named an Elite Lawyer for Personal Injury in 2018 and received the Martindale-Hubbell Client Champion Award – Platinum Distinction. His firm recently received an A+ accreditation rating from the Better Business Bureau.
Designed to assist potential clients in finding an experienced legal professional to address specific legal needs, the Elite Lawyer tools and resources provide information on distinguished attorneys throughout the United States.
The Elite Lawyer Award assures that each attorney selected to the directory has received a nomination from their peers for displaying excellence and a high level of skill with the law. Awarded only to those who have met or exceeded the criteria of a rigorous, multi-phased selection process, the Award recognizes top-rated attorneys for their excellence and outstanding service in their specific area or areas of practice.
Only the most outstanding and experienced attorneys receive the Elite Lawyer Award. A prestigious nomination and presented only to legal professionals who are able to meet or exceed its demanding criteria, it sets these exceptional attorneys apart from their peers when consumers use the directory to search for a top-notch attorney in their area.
The Elite Lawyer Award speaks highly of how well each nominated attorney is perceived by their legal community. For more information about Elite Lawyer, or to become a member of the esteemed directory, visit http://www.elitelawyer.com.
About Hoggatt Law Office, P.C.
For more than 15 years, Hoggatt Law Office, P.C., has served Northern Colorado clients in need of injury compensation. Our attorneys pursue the maximum compensation for your personal or work-related injuries, whether that means filing a worker's compensation claim or using litigation. We have three convenient office locations in Fort Collins, Greeley, and Longmont. For more information or to schedule a free consultation, call 970-225-2190 or visit https://www.hoggattlaw.com.
Share article on social media or email: