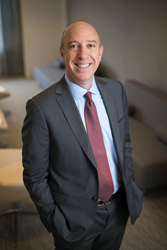 BALTIMORE (PRWEB) May 16, 2018
Veteran trial attorney, Robert K. Jenner, has announced the opening of the Jenner Law Firm - a boutique firm focused on representing individuals injured by defective prescription drugs and medical devices, as well as by general negligence.
"Representing people who have been injured by the negligence of pharmaceutical and medical device companies is the cornerstone of what we do," said Jenner. "In addition to this complex trial practice, our team will continue to represent people who have suffered catastrophic injuries from reckless corporate conduct."
Jenner, who is joined by a team of experienced professionals, has more than 33 years of experience litigating cases in state and federal court. He currently holds leadership positions in several federal multi-district litigation (MDL) matters, including: In Re Smith & Nephew Birmingham Hip Resurfacing (BHR) Hip Implant Product Liability Litigation; In Re Zofran (Ondansetron) Products Liability Litigation; In Re: Skechers Toning Shoe Products Liability Litigation; and in the state court consolidation, In Re Consolidated Fresenius Cases, Superior Court for the Commonwealth of Massachusetts.
"Our team promises to provide our clients the best legal experience available – with an enhanced emphasis on personal attention, communication and trust," Jenner said. "In addition, we promise our referring counsel the most in-depth analysis of the cases we are investigating, and proactive status updates about how our litigations are progressing."
Jenner is a past president of the Maryland Association for Justice, and a repeated recipient of the Best Lawyers® Lawyer of the Year Award (Plaintiff - Mass Torts) for Baltimore.
About Jenner Law Firm
Jenner Law represents consumers nationwide with its substantial experience in complex cases. The Firm goes deeper into investigating the causes of injuries and identifying the responsible parties. Given his experience, including almost two decades as the head of the Mass Tort Division at Janet, Jenner & Suggs, LLC (JJS), federal and state court judges have repeatedly selected Rob Jenner to lead teams of attorneys against some of the nation's most powerful drug and device companies. Among his many accolades, Rob Jenner has been consistently recognized by Best Lawyers® since 2005; Lawyer of the Year, and, in 2017, was named as one of America's 50 Most Influential Trial Lawyers by the National Trial Lawyers. For more information, visit http://www.jennerlawfirm.com
Share article on social media or email: