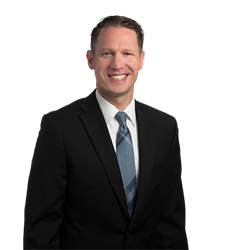 I'm proud to return to BGD, where the entrepreneurial culture provides opportunities for individuals with strong business ideas to bring them to life.
Louisville, Kentucky (PRWEB) October 28, 2017
Bingham Greenebaum Doll LLP is pleased to announce that C.W. Raines III has been named the firm's Chief Operating Officer.
In his new role, Raines will be responsible for all business and administrative operations of the firm and its six offices including its Marketing, Legal Talent Management, Human Resources, Finance, and Information Technology functions. Raines is tasked with leading strategic growth initiatives, delivering the annual budget, and increasing operational efficiencies while helping to guide the firm through the continuing evolution of the legal market.
Raines returns to the firm after several years of successful leadership roles with 3M Company, one of 30 companies in the Dow Jones Industrial Average which posts sales in excess of $30B and has greater than 90,000 employees worldwide. While at 3M, Raines served as Senior Legal Counsel, Senior Global Business Manager, and Business Development & Strategy Manager.
Raines also served as General Counsel and Assistant General Counsel at Aearo Technologies in Indianapolis. Prior to serving as in-house counsel, Raines previously worked in BGD's Indianapolis office as an Associate from 2004-2006 where his practice focused on corporate services including mergers and acquisitions, start-ups, and lending transactions. Over the course of his career, Raines has traveled to over 23 countries to work with customers and clients.
"C.W. will bring a strategic business perspective to BGD, which will allow the firm to quickly identify and implement new services to meet the changing needs of our clients. We are pleased to have one of our best and brightest back at BGD," said Tobin McClamroch, Managing Partner of the firm.
In addition to his legal and business experience, Raines spent four seasons playing professional soccer after earning his bachelor's degree in International Business from the University of Evansville in 1997. In 2003, he earned his J.D. from the Indiana University McKinney School of Law and his MBA from the Indiana University Kelley School of Business.
"I'm proud to return to BGD, where the entrepreneurial culture provides opportunities for individuals with strong business ideas to bring them to life," said Raines. "I am excited to have the opportunity to lead a team of driven, hard-working professionals who are collaborating to develop creative and innovative legal practices to better serve our clients. It's great to be home."
###
Bingham Greenebaum Doll LLP is a business law firm providing transactional, litigation, tax and government-related services to clients across a variety of industries and business sectors. The firm also provides estate planning and other services to individuals and non-profits. BGD has served the legal and business needs of clients for more than a century; additional firm information is available at http://www.bgdlegal.com.
Share article on social media or email: