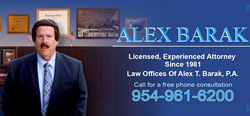 The spouse and children under 21 also come along with the E-2 visa. Children may attend American schools, and spouses can also receive a work permit.
HOLLYWOOD, Fla. (PRWEB) July 09, 2019
America offers investors certain types of immigration benefits. Numerous countries have a special arrangement with America for the E-2 visa, for example, a work visa for non-Americans who intend to buy an existing U.S. company for $100,000 or more.
"This also applies to those starting up a new business in the U.S. with a commitment of $100,000 in the form of obtaining a multi-year lease, ordering new or bringing over office equipment and furniture, or machines, vehicles, inventory, relocation expenses, signing invoices or contracts for goods, services or products," said Barak, founder of the Law Offices of Alex T. Barak and the son of immigrants.
According to Barak, this E-2 visa is becoming more and more popular due to the level of class and respect applicants are treated with at the U.S. Embassies and the length of five years being granted to start.
"The spouse and children under 21 also come along with the E-2 visa," added Barak. "Children may attend American schools, and spouses can also receive a work permit."
The investor applying for the E-2 can be an individual or a company, or a substantial stockholder of a company which seeks to send an executive to the U.S. Unlike the L-1A visa, the E-2 can be applied for directly at a U.S. Embassy or Consulate.
"When approved, the applicant and spouse and children under 21 will have a five-year E-2 visa and will have freedom to travel," noted Barak. "The L-1 visa, on the other hand, requires a filing with U.S. Immigration, greater scrutiny to obtain an approval, and then an application to a U.S. Embassy for issuance of the visa has to be applied for and an interview scheduled."
However, there is a caveat concerning the E-2: anyone on this must never state he or she intends to live permanently in the U.S.
"In fact, in order to be approved for this visa, there must be a sworn statement of no intention of living permanently in the U.S.," stressed Barak. "Of course, under the right set of circumstances, even on an E-2 a qualified person can change over to a green card holder under different immigration law categories."
In comparison, the L-1A visa requires at least five full-time employees including the general manager before the end of the first year in order to obtain a two-year extension. It will take an L-1A visa applicant three attempts at filing, the initial one plus two extensions, to reach the five years the E-2 applicant obtains from the start.
The E-2 applicant must provide a document-linked history of the funds to provide clear and unquestionable proof of the money's legal sources. Tax returns, income statements, bank account statements, brokerage account statements, real estate closings/sales documents can be used for this purpose. Inheritances and gifts from family members are also acceptable legal sources of funds.
The applicant must also have invested or is in the process of investing. The investor must have control of the funds, and the investment must be at risk in the commercial sense. Loans secured with assets of the investment enterprise are not allowed.
"Due to all of the above, the E-2 visa is sizzling in its popularity as the go-to visa for financially successful people," concluded Barak.
About Alex T. Barak, Law Offices of Alex T. Barak, P.A.
Alex T. Barak handles all forms of immigration law, including green card cases from family members such as wives, husbands, children and parents, as well as business and investor-type visas. He has been named one of the Top 3 Best Immigration Lawyers in Hollywood, FL. Practice areas of the Law Offices of Alex T. Barak, P.A. also include personal injury. For more information, please call (954) 961-6200, or visit https://baraklaw.com/.
For media inquiries, please call the NALA at 805.650.6121, ext. 361.
Share article on social media or email: