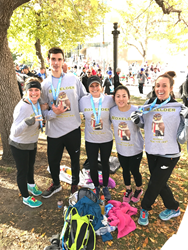 The people of Flint need to rally together more than we ever have before. -Audra Walter, '87 Genesee County Baby of the Year
Denver Colorado (PRWEB) October 18, 2017
Boxelder Consulting, a Denver based tax resolution and accounting firm, sponsored three Flint, Michigan athletes to run in the Denver Rock n' Roll Half Marathon on Sunday, October 15th.
Audra Walter, Jenna Walter and Geena Gall, dubbed the Michigan Missies, are all former Michigan Collegiate Athletes in their respective sports, Women's Golf and Track & Field. Audra and Geena currently reside in Denver and Jenna lives in Memphis. This opportunity to run as a team brought the ladies back together for the first time in over a decade.
The Flint, Michigan hometown wonder women finished with the best cumulative time of any corporate sponsored trio. "I am so proud to be able to help bring these incredible women together in a fun-filled but competitive sporting event," exclaimed Tom Conradt, a partner and lead tax attorney at Boxelder Consulting.
"I'm pretty sure Geena finished in the top 20 for her age group and even made an unscheduled port-o-potty pit stop around mile six. They were just so fast," remarked David Weishaus, one of the lead tax strategists at Boxelder.
Flint is known for its recent water crisis, but on Sunday it was known for dominant runners competing for a great cause on a stunningly beautiful fall day in Denver. In addition to sponsoring these athletes, Boxelder Consulting donated to St. Jude Hospital in Memphis and the Greater Community Flint Water Crisis Fund in each runner's name.
"You don't ever forget your home town and the friends you made there. My family still lives in Flint and deals with the water crisis every day. This was a way of showing the residents of Flint that we can not only overcome this serious problem, but thrive as women and members of the Flint community," said Geena Gall after the event. Ms. Gall also competed in the 2012 Olympics in London for the U.S. Track & Field team. She was also an NCAA All American in Track & Field at the University of Michigan.
The race covered 13.1 miles in beautiful downtown Denver. Over 12,500 competed in the 5k, 10k and half marathon races over the past weekend.
Boxelder Consulting jumped at the idea of sponsoring the runners and giving back to the Flint and Denver communities. Boxelder Consulting works with taxpayers nationwide to not only resolve outstanding tax liabilities with the federal or state taxing authorities, but to also provide full accounting and bookkeeping support so that tax problems do not crop up again in the future.
Boxelder Consulting is located at 1355 South Colorado Boulevard in Denver, Colorado 80222 and is available for all your tax resolution, accounting and business consulting needs. Please contact us at 303-317-6111 or visit our website at http://www.boxelderconsulting.com
For quotes or comments please contact Audra Walter at 303-317-6111. Please address emails to audra(at)boxelderconsulting(dot)com.
Share article on social media or email: