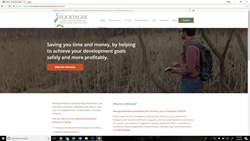 "Our new web address, www.LandDevelopmentWetlandSolutions.com, may be one of the longest domain names ever seen, but it describes our capabilities perfectly.
Past News Releases
TWINSBURG, Ohio (PRWEB) May 14, 2018
Flickinger Wetland Company has launched a new web site to explain the restructuring and improvements it has made to help land owners and developers maintain compliance with federal, state and local regulations for surface waters, including wetlands. Among the changes is a vastly improved client service program that includes a Director of Environmental Project Management, and a General Manager & Chief of Field Operations who is available to help clients 24/7/365.
Since 1991, Flickinger has helped owners and managers of thousands of land projects deal with virtually everything that can impact wetland decisions. The Company's wetland solutions provide all the elements needed to pursue Section 404 permits administered by the United States Army Corps of Engineers (USACE) under the Clean Water Act, as well as Section 401 permits administered by the OEPA in Ohio and by similar agencies in other states.
The broad range of Flickinger Wetland Company services include:
    Strategic development planning and consulting
    Wetland determinations
    Wetland delineation mapping
    Wetland and stream evaluation
    Endangered species determination
    Site plan design assistance
    Site plan impact mapping
    USACE Jurisdictional Determinations
    USACE Nationwide Permit Applications
    USACE Individual Permit Applications
    Other permit applications
    Ohio EPA Water Quality Certifications
    EPA Individual Permits
    Mitigation designs and monitoring
    Cultural resource and historic identification
    Laboratory soil analysis
According to Emmett Messer-Kruse, Flickinger's General Manager & Chief of Field Operations, "Our new web address, http://www.LandDevelopmentWetlandSolutions.com, may be one of the longest domain names ever seen, but it describes our expertise perfectly…that Flickinger's dedicated approach to finding land development wetland solutions can help land developers achieve their goals ethically, reliably, on time, and on budget. I am especially proud to be part of our enhanced client service program, which enables clients to call me outside of normal business hours 24/7/365, to meet their immediate needs more quickly than ever before."
For more information, visit http://www.LandDevelopmentWetlandSolutions.com, call 330-405-4127,
email info(at)landdevelopmentwetlandsolutions.com, or write to Flickinger Wetland Company, 8340 N. Boyle Parkway, Twinsburg, OH 44807
Share article on social media or email: