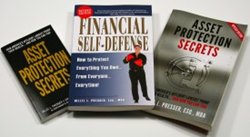 We will spend more time and money unwinding someone's mistakes than if they had done it the right way by seeking professional help the first time.
BOCA RATON, Fla. (PRWEB) May 25, 2018
Hillel L. Presser is a firm believer that if you put in the time and money to do things right the first time, you won't have to do them again. Asset Protection is one of those things.
A good Asset Protection plan cannot be 'cookie-cutter.' Everyone's assets differ, as do their potential threats, creditors, and liabilities. For an Asset Protection plan to be rock-solid, it must be tailored to address the specific needs, threats, and assets.
Someone can make a number of mistakes when attempting Asset Protection themselves. At The Presser Law Firm, P.A., we will spend more time and money unwinding someone's mistakes than if they had done it the right way by seeking professional help the first time.
Here's five of the biggest Asset Protection mistakes to avoid:
#1 Hiding Your Assets
"A day doesn't go by where someone comes to my office and says, 'Mr Presser, I want you to help me hide my assets'," said Hillel L. Presser. "All I can do is laugh. Asset Protection is not about hiding. It's not about secrecy. It's about protection."
Presume that at some point you are going to have to disclose what you have under oath. With a good Asset Protection plan you should be able to tell everybody what you have and where it is, they just shouldn't be able to get to it.
#2 Titling Your Assets To Straws
A "straw" is a third party, like a friend or a family member. Titling your assets to one is a surefire mistake.
"Someone once called me and said, 'I'm being sued, but don't worry -- I'm giving everything to my best friend'," said Presser. "You can already guess what happens next. Sure enough, the friend got a divorce and his wife took his assets."
What actually makes you think your friend has any less financial or legal trouble than you? Never title an asset to someone else.
#3 Titling To A Spouse
"I see this a lot with my doctor clients," said Presser. "They think that because their spouse is less vulnerable, they can simply title everything in their name."
This is a fallacy because no one is immune from a lawsuit -- not even the less-vulnerable spouse. The husband and wife can just as easily get in a car accident taking the kids to soccer practice. Or, God forbid there's a divorce.
Nobody gets up in the morning and expects to be sued. Don't shove everything in one spouse's name.
#4 Fraudulent Transfers
It is important to protect yourself before you have a problem. In that sense, Asset Protection should be viewed as a form of insurance -- something to buy before you need it. When you're staring down the face of a lawsuit, fraudulent transfers can, and often do, occur.
A fraudulent transfer occurs when assets are transferred out of your name for less than fair market value with the intent to hinder or defraud the creditor. It's not the same as fraud, and should more appropriately be called 'voidable transfers'. Regardless, you'll always want to be proactive and avoid trying to Asset Protection planning after the fact.
#5 Breaking Laws
Don't play games. Develop a 100% legal plan.
Asset Protection is neither illegal nor immoral. The law allows folks to legally shelter what they own. But make no mistake about it: a questionable or patently illegal strategy will land you into hot water. A good Asset Protection planner avoids the troublesome gray area between a legal and illegal plan entirely.
When It Comes To Asset Protection, Education Is Key
If you are interested in Asset Protection, the first thing you need to do is to educate yourself. The Presser Law Firm, P.A. has tons of educational materials, resources and information on our website, AssetProtectionAttorneys.com.
Copies of our Asset Protection books are available on our website. As the author, I'm quite happy to provide complimentary copies to those who are serious about learning.
Become an educated client. Inventory your wealth. You have a lot more than you think. Really sit down and write. Then speak to a qualified asset protection specialist.
To help service your needs, The Presser Law Firm, P.A. offers a Complimentary Preliminary Consultation with one of our experienced Asset Protection Attorneys. Call 561-953-1050 or email Info(at)AssetProtectionAttorneys.com today.
Share article on social media or email: