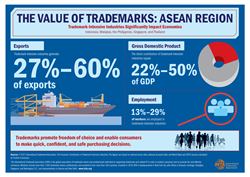 "This study adds to the growing body of global research on the importance of trademarks," said INTA CEO Etienne Sanz de Acedo.
New York, NY (PRWEB) September 14, 2017
A new impact study released today by the International Trademark Association (INTA) reports that industries which intensively use trademarks contribute significantly to five major economies in the Association of Southeast Asian Nations (ASEAN) region. Analysis from The Economic Contribution of Trademark-Intensive Industries in Indonesia, Malaysia, the Philippines, Singapore, and Thailand indicates that trademark-intensive activities generate increased employment across sectors and added contributions to international trade. Trademark-intensive industries are defined as those industries which file more trademarks than other industries–weighted against total employment in that industry.
The release of the report coincides with the 50th anniversary of the ASEAN, which has successfully grown to become the world's seventh-largest market and home to the third-largest labor force over the last half century. INTA commissioned the report from Frontier Economics, an internationally recognized economics research firm. The study is the first of its kind to analyze the correlation between trademarks and their economic impact on contribution to Gross Domestic Product (GDP), share of exports, and employment in major markets in Southeast Asia. Looking at data from 2012 to 2015, it captures both the direct and indirect value that trademarks yield to economies, governments, and consumers, and analyzes the central role of trademarks in accelerating economic development and increasing export shares within cross-border supply chains.
Specifically, across trademark-intensive industries within the five countries studied, direct contribution to GDP varied between 22% and 50%, indirect contribution to GDP ranged from 40% to 60%, and workers' share of the workforce ranged from 13% to 29% of total employment. With regard to international trade, trademark-intensive industries, including manufacturing of computers, electronics, and food production, contributed from 27% to 60% of each country's share of exports. Additionally, region-wide analysis suggests that export shares of trademark-intensive industries are highest in the regions where computers and electronics are prominent.
"This study adds to the growing body of global research on the importance of trademarks," said INTA CEO Etienne Sanz de Acedo. "These results underscore the immense potential for cross-sectoral economic growth that can be unlocked by promoting the value of trademarks with the business community, government, and the general public, and by further developing national trademark systems and trademark-intensive industries."
Building on similar methodologies used by the European Union Intellectual Property Office (EUIPO) and the United States Patent and Trademark Office (USPTO), findings from the ASEAN report echo emerging analytical trends with regard to trademark-intensive activity. In the European Union, from 2011 to 2013, intellectual property (IP)-intensive industries generated more than 42% of total economic activity; trademark-intensive industries alone produced 36% (€4.8 trillion) of that activity and generated nearly 46 million jobs (21%). A similar study conducted by the USPTO also found that IP-intensive industries continue to be a major, integral, and growing part of the U.S. economy. In 2014, trademark-intensive industries accounted for 23.7 million jobs in the U.S. In Latin America, according to a recent study commissioned by INTA of trademark-intensive industries in Chile, Colombia, Panama, Peru, and Mexico, from 2010 to 2014, their contribution to GDP varied between 10% and 21%, and workers' share of the workforce ranged from 8% to 26% of total employment.
"As we explore the long-term economic and social implications of trademarks and related intellectual property rights, it becomes increasingly important for both public and private sectors to scale up engagement on this issue, as well as support government efforts to further trademark and brand development and protection," said Mr. Sanz de Acedo.
The ASEAN impact report and infographics can be downloaded here.
About INTA
The International Trademark Association (INTA) is the global association of trademark owners and professionals dedicated to supporting trademarks and related IP in order to protect consumers and to promote fair and effective commerce. Members include more than 7,000 trademark owners, professionals, and academics from more than 190 countries, including 289 members in the ASEAN region, who benefit from the Association's global trademark resources, policy development, education, training, and international network. Founded in 1878, INTA is headquartered in New York City, with offices in Brussels, Santiago, Shanghai, Singapore, and Washington, D.C., and representatives in Geneva and New Delhi. For more information, please visit http://www.inta.org.
For media inquiries, contact:
INTA
Sari Schwartz
Senior Strategist, Communications
+1-212-642-1774
Share article on social media or email: