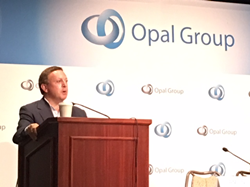 Ron Diamond compared GP-Co Investments and Direct Investing at the Alternative Investing Summit.
CHICAGO (PRWEB) February 04, 2019
Financial Poise™ is pleased to congratulate Ron Diamond, Chair of the Family Office Advisor, a Financial Poise™ editorial board, on his speaking engagement on December 7, 2018, at Opal Group's Alternative Investing Summit.
At the Summit, Mr. Diamond spoke on the panel, "GP-Co Investments vs. Direct Investing?" By sharing his expertise, Diamond helped shed light on what is sometimes considered a nebulous investment class to many investors. In fact, Diamond noted that "because private equity is becoming more of an of assets under management paradigm, Family Offices are beginning to disrupt the traditional PE model by making direct investments with other Family Offices.
Opal Group's Alternative Investing Summit brought together trustees and representatives of institutions as well as money managers and consultants to explore the roles of alternative opportunities and strategies. The Summit, a three-day event, took place from December 5th to December 7th, 2018, in Dana Point, California.
ABOUT DIAMOND WEALTH
Diamond Wealth is a boutique financial services firm that offers a comprehensive suite of advisory services catering to the unique needs of family offices, ultra high net worth individuals and business owners. To learn more about Diamond Wealth, please visit http://www.diamondwealthstrategies.com/
ABOUT FINANCIAL POISE™
Financial Poise™ has one mission: to provide reliable plain English business, financial and legal education to individual investors and private business owners. Financial Poise™ content is created by seasoned, respected experts who are invited to join our Faculty only after being recommended by current Faculty Members. Our editorial staff then works to make sure that all content is easily digestible. Financial Poise™ is a meritocracy; nobody can "buy" her way onto the Financial Poise Faculty.™ Start learning today at https://www.financialpoise.com/
Share article on social media or email: