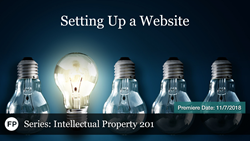 Learn how to set up a legally-compliant website from this panel of seasoned experts.
CHICAGO (PRWEB) November 06, 2018
In today's economic environment, intellectual property (IP) rights have become increasingly important assets for both individual and corporate entities. More and more, both are recognizing the economic importance of IP rights--whether those rights consist of a single patent--or whether they consist of an entire portfolio also including trademarks, copyrights, and trade secrets.
This information-packed Financial Poise INTELLECTUAL PROPERTY-201 2018 webinar series focuses on the intricacies of IP rights as they relate to the specific areas of brand protection, IP transactions, internet marketing, and other IP issues that are critical when representing innovators and inventors. Join some of the leading attorneys in the world, as they discuss—in plain English for the non-expert—some specific IP challenges that individuals, businesses, and those who represent them are likely to face.
The third episode of the series, Setting Up a Website, airs on November 7th at 2:00 PM CST (Register Here) and features Moderator Cristina Nolan of Financial Poise. She is joined by Joshua Lyons of CRE Marketing Group and Joshua Lyons Marketing and Darren Spielman of Kain Spielman, P.A.
As e-commerce continues to become increasingly important, more and more individuals and companies are finding it necessary to market themselves through a personal or company website. But setting up a legally-compliant website is often trickier than it sounds. This webinar discusses some of the legal issues that individuals and companies need to know to avoid potential liability when establishing a website. It also discusses laws that can be used to effectively protect website content.
The INTELLECTUAL PROPERTY-201 2018 webinar series is produced by Financial Poise.™ The final episode of the series is "Legal Issues for Innovators & Inventors" airing on December 12th. Each episode airs at 2:00 PM CST. All episodes premiere live through West LegalEdCenter and then are made available on-demand.
As with every Financial Poise Webinar, each episode is delivered in Plain English understandable to investors, business owners, and executives without much background in these areas, yet is also valuable to attorneys, accountants, and other seasoned professionals. And, as with every Financial Poise Webinar, each episode brings you into engaging, sometimes humorous, conversations designed to entertain as it teaches. Each episode in the series is designed to be viewed independently of the other episodes, so that participants will enhance their knowledge of this area whether they attend one, some, or all episodes.
About Financial Poise™
Financial Poise™ has one mission: to provide reliable plain English business, financial and legal education to investors, private business owners and executives, and their respective trusted advisors. Financial Poise™ content is created by seasoned, respected experts who are invited to join our Faculty only after being recommended by current Faculty Members. Our editorial staff then works to make sure that all content is easily digestible. Financial Poise™ is a meritocracy; nobody can "buy" her way onto the Financial Poise Faculty.™ Start learning today at https://www.financialpoise.com/
Share article on social media or email: