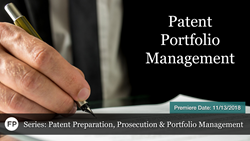 Learn how to create a patent portfolio that is robust, purposeful and managed effectively.
CHICAGO (PRWEB) November 12, 2018
Aspects of Patent Preparation, Prosecution and Portfolio Management involve intricate interactions between those managing and those carrying out the efforts, be that within a common entity or involving outside counsel. In particular, using outside counsel to assist in patent application preparation and prosecution is an incredibly valuable manner in which to generate and maintain a robust patent portfolio.
Having patent applications prepared and prosecuted by outside counsel can improve short-term workflow management and provide many long-term advantages once a patent has issued. However, utilizing outside counsel can be costly, ensuring quality can be challenging and managing patent portfolios can require a balance of information not always available to all involved.
Whether working with a small or large number of outside firms and whether they are small or large in size, this Financial Poise™ PATENT PREPARATION, PROSECUTION & PORTFOLIO MANAGEMENT 2018 webinar series provides insight that will assist both inside and outside counsel in creating a more effective working relationship.
The third and final episode of the series, Patent Portfolio Management, airs on November 13th at 1:00 PM CST (Register Here) and features Moderator Eric Curtin of Crawford Maunu PLLC. He is joined by Piers Blewett of Schwegman Lundberg & Woessner, Erin Nichols Matkaiti of Hollingsworth Davis, and Rakhi Nikhanj of Mueting, Raasch & Gebhardt.
Patent portfolio management starts at the inventive stage and doesn't end until a patent is no longer active. Strategies vary widely and goals may evolve over time. Future events, such as those relating to licensing and litigation, can greatly affect such strategies. As patent portfolios grow, management becomes more difficult as does ensuring that the efforts (and expenditures) being made are appropriate.
This webinar provides a variety of perspectives that will be useful in ensuring that your patent portfolio is robust, purposeful and managed effectively.
The PATENT PREPARATION, PROSECUTION & PORTFOLIO MANAGEMENT 2018 webinar series is produced by Financial Poise.™ All episodes premiere live through West LegalEdCenter and then are made available on-demand.
As with every Financial Poise Webinar, each episode is delivered in Plain English understandable to investors, business owners, and executives without much background in these areas, yet is also valuable to attorneys, accountants, and other seasoned professionals. And, as with every Financial Poise Webinar, each episode brings you into engaging, sometimes humorous, conversations designed to entertain as it teaches. Each episode in the series is designed to be viewed independently of the other episodes, so that participants will enhance their knowledge of this area whether they attend one, some, or all episodes.
About Financial Poise™
Financial Poise™ has one mission: to provide reliable plain English business, financial and legal education to investors, private business owners and executives, and their respective trusted advisors. Financial Poise™ content is created by seasoned, respected experts who are invited to join our Faculty only after being recommended by current Faculty Members. Our editorial staff then works to make sure that all content is easily digestible. Financial Poise™ is a meritocracy; nobody can "buy" her way onto the Financial Poise Faculty.™ Start learning today at https://www.financialpoise.com/
Share article on social media or email: