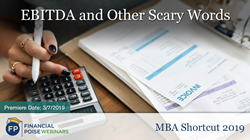 You don't have to be an accountant to understand finance.
CHICAGO (PRWEB) February 24, 2019
About the Series: This webinar series is designed for the startup founder, business owner, executive, investor, attorney or consultant who finds himself needing to understand finance and accounting. Packed with illustrative examples, helpful anecdotes and real-world case studies, this series teaches some of the key concepts to understand about finance and accounting.
About the Episode: This webinar explores the ins and outs of financial language and how you can navigate the seeming labyrinth of a language that can sound foreign and in some ways counter-intuitive. This webinar teaches the correct use of EBIT, EBITDA and EBITDAR while also dealing with concepts like Cap Rate vs. Capital Cost. The panelist of experts also shed light on issues with ROI and Payback among other valuation tools, and explain what a Cash Conversion Cycle looks like for a business.
To learn more, click here.
The webinar will be available on-demand after its premiere. As with every Financial Poise Webinar, it will be an engaging and plain English conversation designed to entertain as it teaches.
About Financial Poise –
Financial Poise has one mission: to provide reliable plain English business, financial and legal education to investors, private business owners and executives, and their respective trusted advisors. Financial Poise content is created by seasoned, respected experts who are invited to join our Faculty only after being recommended by current Faculty Members. Our editorial staff then works to make sure all content is easily digestible. Financial Poise is a meritocracy; nobody can "buy" their way into the Financial Poise Faculty. Start learning today at https://www.financialpoise.com/
Share article on social media or email: