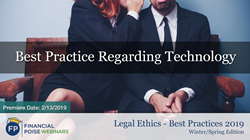 Learning about legal ethics does not have to be dry and boring.
CHICAGO (PRWEB) February 12, 2019
About the Series: This webinar series examines ethical issues confronted by businesses in a variety of contexts, from so called "grey areas" to those involving outright corruption. The panelists consider and recommend different approaches to ethical decision-making and the lawyer's role in advising business clients.
About the Episode: Technology is rapidly changing the way that lawyers and businesses interact (e.g. email; data rooms). This creates new and different challenges to confidentiality, attorney-client privilege and the creation of a detailed record of negotiations and interactions. This webinar will describe the problems and some solutions that arise out of the changing manner and pace of business law practice.
To learn more, click here.
The webinar will be available on-demand after its premiere. As with every Financial Poise Webinar, it will be an engaging and plain English conversation designed to entertain as it teaches.
About Financial Poise –
Financial Poise has one mission: to provide reliable plain English business, financial and legal education to investors, private business owners and executives, and their respective trusted advisors. Financial Poise content is created by seasoned, respected experts who are invited to join our Faculty only after being recommended by current Faculty Members. Our editorial staff then works to make sure all content is easily digestible. Financial Poise is a meritocracy; nobody can "buy" their way into the Financial Poise Faculty. Start learning today at https://www.financialpoise.com/
Share article on social media or email: