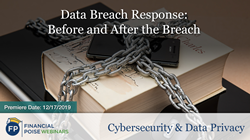 This webinar provides an overview of what to do when the company experiences the worst thing that could happen, a data breach.
CHICAGO (PRWEB) November 18, 2019
Your company has just suffered a data breach – what do you do next? Who do you call for help? Whom do you need to notify of the breach?
Your company may have already implemented its information security program and has identified the responsible parties, including applicable outside experts to be contacted in the event of a breach. However, now you must assemble your incident response team to investigate the extent of the breach, evaluate the possible damage to your company, and determine whether you must notify your clients or the public of the breach. This webinar gives you an overview of what to do when the worst happens.
To learn more, click here.
The webinar will be available on-demand after its premiere. As with every Financial Poise Webinar, it will be an engaging and plain English conversation designed to entertain as it teaches.
About Financial Poise –
Financial Poise has one mission: to provide reliable plain English business, financial and legal education to investors, private business owners and executives, and their respective trusted advisors. Financial Poise content is created by seasoned, respected experts who are invited to join our Faculty only after being recommended by current Faculty Members. Our editorial staff then works to make sure all content is easily digestible. Financial Poise is a meritocracy; nobody can "buy" their way into the Financial Poise Faculty. Start learning today at https://www.financialpoise.com/
Share article on social media or email: