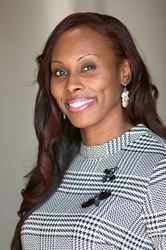 Female real estate investors are underrepresented in the industry but there is a new trend and women are making big strides with the help of Noelle Randall's training.
DALLAS (PRWEB) January 22, 2019
Women are underrepresented as real estate investors, yet, when they do invest, they're very successful.
Although there have historically been fewer women in the industry, women have traditionally held the decision-making power when it comes home buying.
Now a Dallas entrepreneur is out to empower more women to join this growing field. Noelle Randall is a successful business woman with more than 20 years' experience, a renowned author of children's books and a multi-million dollar real estate investor and licensed mortgage loan officer. She has a Master's degree in Economic Development from Penn State and an MBA from Baylor University.
Randall is the founder and president of FDR Horizon Enterprises, which has created top-selling brands, including her signature product Tea More Skinny (TeaMoreSkinny.com). She is the co-founder of Bella J Hair (BellaJHair.com) the premiere virgin hair extension brand and international hair and wig distributor.
Randall has already applied her business skills to expand the Bella J Hair brand to offer business opportunities for other women, allowing hundreds of women to create wealth and financial independence through the Bella J Hair Distributor platform.
She's helped hundreds of women increase their personal wealth through real estate investing, many of whom started from zero.
Her free webinars are a way for her to reach out to even more women to teach them the skills they must have to become thriving investors.
Randall's webinar teaches women why real estate investing is not complicated or expensive, and how they can become involved in the field quickly and without massive financial resources backing them up.
With her instruction, Noelle Randall believes she can bring a new career to women who want more than just a job working for someone else – she can show them how to reinvent themselves as a high-powered real estate investor who can chart their own course in life.
Share article on social media or email: