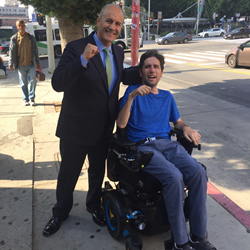 SANTA ANA, Calif. (PRWEB) November 01, 2018
Ady Barkan is willing to give his last breath to bring about change in our managed health care system. With a ruling today by United States District Court Judge Michael Fitzgerald, denying Health Net's motion to compel arbitration of Mr. Barkan's class action lawsuit, the change sought by Mr. Barkan will be litigated in federal court. His attorneys, Rich Collins and Damon Eisenbrey of Callahan & Blaine in Santa Ana, California, celebrated the ruling as a huge victory for Mr. Barkan and for all consumers who are too often forced to arbitrate their claims against large corporations.
Two years and two weeks ago, Mr. Barkan was diagnosed with amyotrophic lateral sclerosis ("ALS"). The progressive degeneration of ALS eventually leads to the brain's inability to initiate and control muscle movement, causing those who suffer from the disease to lose the ability to speak, eat, move and breathe. But before the ALS robs Mr. Barkan of his ability to speak, Health Net sought to silence him with its motion to compel arbitration.
On June 29, 2018, Mr. Barkan filed a class action lawsuit against Health Net in an effort to change Health Net's practices and to seek redress for the thousands of other policyholders who have suffered from Health Net's alleged bad faith insurance practices. Ohad Barkan v. Health Net of California, Inc., et al., Case No.: CV 18-6691-MWF (ASx).
Mr. Barkan had been receiving his health care coverage through Cigna, and had been treating with Karen DaSilva, M.D., a neurologist in Santa Barbara, a provider within Cigna's network. Mr. Barkan discontinued his Cigna plan January 1, 2018, and enrolled in the Health Net Blue & Gold HMO with his wife and son. Dr. DaSilva also is a provider within Health Net's network, which should have precluded any interference with Mr. Barkan's continuity of care.
Dr. DaSilva determined it was medically necessary for Mr. Barkan to use a ventilator and take the prescription medication, Radicava. Health Net refused to authorize the prescription for Radicava on the grounds that it was not medically necessary, and denied authorization for the ventilator on the grounds that it was experimental or investigational. Mr. Barkan appealed the denials, and in a letter dated January 27, 2018, Health Net reversed its denials.
But Mr. Barkan's lawsuit goes well beyond Health Net's denial of his treatment. Mr. Barkan is suing Health Net for breaching its promise to deliver covered, medically necessary health care, and to challenge what he claims are Health Net's bad faith, deceptive and unfair insurance practices on behalf of all of those other Health Net insureds who have suffered, and in the future will suffer, wrongful denials of claims because of Health Net's ambiguous "Experimental or Investigational" and "Medically Necessary" exclusions and bad faith insurance practices. (See Plaintiff's Complaint, Case No. CV 18-6691-MWF (ASx) Dkt No. 1-2 at Introduction; Page 4, lines 12-18, Page 4, lines 24-page 5, line 4.)
Health Net sells health care service plans and policies that contain a binding arbitration clause. In Mr. Barkan's case, the arbitration clause was found on page 59 of the 94-page plan booklet. These clauses are included in policies and plans on a take-it-or-leave-it basis. Health Net moved to enforce this arbitration clause in an effort to avoid publicly litigating Mr. Barkan's class action claims in District Court. (See the Court Order, Case No. CV 18-6691-MWF (ASx) Dkt No. 30, at page 3 & 11; Dkt No. 24 page 10 lines 19-26, page 11 lines 13-17.)
Judge Fitzgerald denied Health Net's motion, agreeing with Mr. Barkan's argument that Health Net's enrollment form does not comply with California's statutory mandates regarding disclosure and notice to the applicant that he or she is waving the right to a jury trial and that any claims against Health Net are subject to binding arbitration. Judge Fitzgerald further ruled that, even if the inadequacies of the enrollment form disclosure could be remedied by the actual arbitration clause in the plan document, the clause is utterly indistinguishable from the other surrounding provisions.
After the hearing, Mr. Barkan had this to say: "Tens of millions of Americans are mistreated by their health insurance companies. These insurance companies delay and deny coverage every day, and families like mine bear the burden. Then, they use unconscionable binding arbitration agreements to prevent us from enforcing our legal rights. This ruling is a major victory for patients like me who need access to healthcare and access to the American courts. I brought this lawsuit in order to highlight the need for single-payer Medicare for All. Along the way, we are also going to highlight how the mandatory arbitration system harms so many families like mine. I am excited about today's ruling, and I look forward to bringing my claims—and the claims of thousands of other members of our class action—in front of a jury."
For more information, contact:
Laurali Kobal, Firm Administrator, 714-241-4444, Laurali(at)callahan-law(dot)com
ABOUT RICHARD T. COLLINS: Mr. Collins is known for being an aggressive trial attorney who has been named to the list of Super Lawyers each year since 2015. Rich has been lead counsel in over 25 jury and court trials in federal and state courts throughout California and elsewhere. He is a litigator with extensive experience in the areas of insurance recovery, coverage and bad faith, and has recovered millions of dollars for his policyholder and health care provider clients through verdicts and settlements. 714-241-4444, rcollins(at)callahan-law(dot)com
ABOUT DAMON D. EISENBREY: Mr. Eisenbrey is a Senior Attorney at Callahan & Blaine. He has extensive experience in complex business litigation involving unfair methods of competition and unfair and deceptive business acts or practices. Mr. Eisenbrey also represents insurance policyholders and health care providers in individual and class action insurance recovery, coverage and bad faith matters, and he prosecutes and defends cases in state and federal court. 714-241-4444; deisenbrey(at)callahan-law(dot)com.
ABOUT CALLAHAN & BLAINE: Founded in 1984, Callahan & Blaine is California's Premier Litigation Firm with record-breaking verdicts and settlements in all areas of complex litigation. With a current roster of more than 28 trial lawyers experienced and focused in virtually all civil practice areas, Callahan & Blaine offers civil litigants an impressive set of credentials and client service values. Our attorneys have more than 700 years of trial experience, and since 2003, our verdicts and settlements add up to over $1.0 billion. Our law firm represents consumers and corporate, professional and entrepreneurial clients of all sizes. https://www.callahan-law.com/
Share article on social media or email: