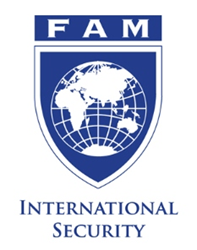 Fort Lauderdale, FL (PRWEB) September 20, 2017
Fort Lauderdale-based, FAM International, a pioneer in the provision of global risk management and security solutions for Fortune 100 and multinational companies; government agencies and at-risk individuals, will be exhibiting at the ASIS International 63rd Seminar and Exhibits in Dallas, TX on September 25-28.
ASIS 2017 is shaping up to be one of the most comprehensive Security events to date and with keynote speakers such as Former President George W. Bush and Mark Cuban, this year's event looks to be one of the largest that the Security industry has ever seen. FAM International Security will be among 550 + exhibitors and showcasing their full range of capabilities and services from Executive Protection to Crisis Response to Social Media Monitoring. Several of FAM International's top level management team will be in attendance, including CEO, Brian Leek, and Fred Lima, COO, Brazil. Exhibiting in Booth 4169, they will be available for the entirety of the convention to consult Global Security solutions.
"The world has changed over the past two decades and become more complex than ever. We are proud to be at the forefront of our industry, innovating services and solutions to keep our clients and their assets safe and secure. On behalf of the entire FAM team, we look forward to this year's ASIS Convention," said Brian Leek, global security expert and FAM International chief executive officer.
To learn more about FAM International, visit http://www.faminternational.com or call 888-326-0070
About FAM International
Since 1997, Fortune 100 and multinational companies, governments and at-risk individuals from Asia, Latin America, the Middle East and Europe have called on FAM International Security for specialized risk mitigation and security solutions.
FAM International has supported projects and clients in over 116 countries, many in high threat regions including: Africa, the Middle East, Asia, Eastern Europe, Central and South America.
FAM International operates offices in North and South America, Europe, South Africa, UAE and South East Asia and employs a broad global network of proven professionals.
Share article on social media or email: