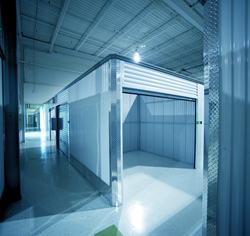 The market is prime for adaptive re-use of vacant big-box retail property into a variety of uses, and we think self-storage makes the most sense.
PORTLAND, Ore. (PRWEB) March 29, 2019
Fairway America has announced the launch of its newest Small Balance Real Estate (SBRE) investment fund. The Fairway America Value-Add Self-Storage Fund (FAVS) is designed to take advantage of a unique market opportunity to acquire vacant "big-box" retail properties at significant discounts and repurpose them into Class-A self-storage facilities.
Fairway believes that continuing pressures on the retail real estate market and the resulting vacancies create an historically unique opportunity to repurpose well-located properties into self-storage facilities. The demand for self-storage space in urban in-fill locations continues to increase, as almost 10% of households rent self-storage units and 50% of Americans have a "clutter" problem.*
"The market is prime for adaptive re-use of vacant big-box retail property into a variety of uses, and we think self-storage makes the most sense. There is often an undersupply of self-storage in areas that have historically not allowed this type of use," reported Fairway's CEO, Matthew Burk. "And, as an asset class, self-storage has historically out-performed many other real estate asset classes, including in recessionary periods."**
Self-storage is a local, micro business, and the majority of renters at any given facility are drawn from within a five-mile radius or less. This new fund intends to target locations that are supply-constrained, yet nearly 100% built-up with residential housing. Typically, these locations will have limited potential competitive properties and zoning restrictions that will deter (and may even prevent) future competitors from entering the immediate area.
"Self-storage facilities are often in limited supply in the immediate surrounding areas of the vacant retail properties being targeted," said Burk. "Yet, these in-fill locations often also have a significant base of potential self-storage renters who would otherwise have to travel much greater distances to access a facility, giving the property an intrinsic and often permanent operating advantage."
Fairway believes that self-storage facilities, as compared to other asset classes such as office, retail, and multifamily, can offer lower ongoing maintenance and improvement costs. Fairway anticipates that the self-storage market may be less management intensive, more stable with regard to cash flow and occupancy, and more predictable than multifamily. The conversion strategy that Fairway intends to pursue with FAVS may also deliver lower construction costs and construction risks than those of ground-up development coupled with a faster time to market. ***
While FAVS, includes material investment risks such as loss of capital and illiquidity, Fairway will attempt to create value for investors by leveraging its team of experienced professionals to identify and work with what Fairway believes to be high-quality, experienced sponsors who are targeting these self-storage conversion projects. Fairway will underwrite and complete extensive due diligence on those sponsors and their projects, in addition to monitoring the progress and execution of the business plan for each.
"This adaptive reuse strategy is a perfect fit for Fairway," said Burk. "We have helped our SBRE sponsor clients acquire and develop or redevelop more than 6,000 self-storage units with a total capitalization of nearly $70 million. We are excited to do more of it as the retail real estate market continues to try to reinvent itself."
*Source: Self-Storage Outlook, Challenges & Opportunities Presentation by Christopher E. Lee of CEL & Associates, Inc., Jan 17, 2019
** Past performance is not a guarantee of future results. Source: https://www.reit.com/data-research/reit-indexes/annual-index-values-returns
***There can be no assurance that the beliefs of Fairway will lead to achieved objectives or avoided losses.
____________________________________________
Fairway America, LLC (fairwayamerica.com) and its affiliated and related companies ("Fairway"), facilitates the flow of capital between quality real estate entrepreneurs and high net worth investors as a real estate private equity firm. Fairway works exclusively within the sub-institutional investment space known as Small Balance Real Estate (SBRE). Fairway provides accredited investors access to SBRE deals, raises capital for SBRE entrepreneurs, and provides full-spectrum advisory and consulting services for SBRE entrepreneurs interested in setting up 506 Regulation D pooled investment funds. Fairway offers equity securities through North Capital Private Securities Corporation, member FINRA/SIPC. For more information on how to become a Fairway investor or to seek capital through the SBRE marketplace, please visit fairwayamerica.com.
This press release does not constitute an offer to sell or a solicitation of an offer to buy securities in any of the companies mentioned or any related or associated companies. Any such offer or solicitation will only be made through private placement memoranda, offering memoranda, or other formal offering documents. Investors must not rely on information provided in this press release for investment decisions, but should instead review the formal offering documents for the investment opportunity, which include material information about the risks associated with the opportunity. Among other things, any investment in FAVS is illiquid, and subject to a potential loss of capital, including a total loss of capital.
Fairway America, LLC
6650 SW Redwood Lane, Suite 290 Portland, OR 97224 503.906.9100
Share article on social media or email: