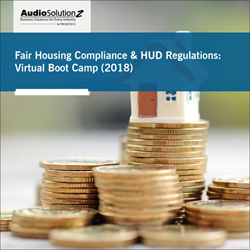 Get real-life case studies that will help in preparing practical solutions to the housing industry's most challenging issues.
DURHAM, N.C. (PRWEB) November 01, 2018
AudioSolutionz, a division of audio conference and corporate education leader ProEdTech, will host the live, 4-hour Virtual Boot Camp titled "Fair Housing Compliance & HUD Regulations: Virtual Boot Camp (2018)" with fair housing expert Paul Flogstad on Thursday, November 8, 2018.
This information-packed fair housing boot camp will cover fair housing requirements—rules, regulations, and penalties in detail—including affordable housing compliance, especially with respect to multifamily properties. Flogstad will discuss all facets of fair housing and how it impacts the attendees. And instead of sharing textbook answers and discussing generic ideas, Flogstad will walk attendees through real-life case studies on how to prepare one's own practical solutions to the housing industry's most challenging issues.
This fair housing boot camp will sensitize attendees to everyday tenant issues that can land owners, managers, and maintenance staff in serious legal trouble for Fair Housing Act violations. It will also equip attendees with the best tools and strategies to formulate effective solutions to combat the issues and stay complaint with fair housing requirements in these two, power-packed sessions:
Session 1: Rules, Regulations and Penalties Involved In Fair Housing Compliance
Duration: 120 minutes
Date: Thursday, November 8, 2018
Time: 12:00 PM EST to 2:00 PM EST
Session Highlights
    Protected classes
    Reasonable accommodation
    Disabilities
    Assistance animals
    Fair housing requirements for maintenance staff
    Enforcement and penalties
    Updated rulings from HUD on:
o    Criminal background checks
o    Harassment
o    VAWA – Violence Against Women Act
o    Disparate impact
o    Smoking in HUD subsidized properties
o    LEP – Limited English Proficiency
Q/A Session: 15 minutes (2:00 PM – 2:15 PM)
Session 2: Affordable Housing Compliance, Esp. In Multifamily Properties
Duration: 90 minutes
Date: Thursday, November 8, 2018
Time: 2:15 PM EST to 3:45 PM EST
Session Highlights
This session will teach attendees how to:
    Develop a maintenance plan for multifamily properties
    Prepare for HUD and LIHTC audits and REAC inspections
    Comply with bed bugs and minimum property standards
    Conduct a successful tenant interview (including resident retention)
    Benefit from useful tips provided in this session
Q/A Session: 15 minutes (3:45 PM – 4:00 PM)
For more information and to register for this cardiology coding boot camp, visit: https://www.audiosolutionz.com/virtual-bootcamp/fair-housing-guidelines        
Get $40 off on our conferences and webinars. Use Code PRWEB40 on checkout (applicable for all purchases).
About ProEdTech
ProEdTech is a leading source of knowledge and training for professionals in over 15 industries, serving individuals, businesses and their employees around the globe. It offers webinars, online conferences, seminars, boot camps, books, DVDs, white papers, industry reports and other learning tools from industry experts and insiders who provide a fresh perspective on key issues, trends and regulations in order to simplify governance, risk and compliance (GRC) for enterprises and industry professionals. ProEdTech's AudioEducator webinars offer updates, regulatory knowledge and information on the latest news in various medical specialties, as well as coding and billing updates, and analysis of regulations that affect ambulatory surgical centers, home health, long term care and hospice facilities, hospitals and healthcare systems, health insurers and physician practices. ProEdTech's Eli Financial platform offers tax and banking professionals, focusing on providing high-quality online training products customized for U.S. lenders and tax practitioners that include the latest updates from the IRS, CFPB and other regulatory authorities. Webinars are also offered through AudioSolutionz in the technology, human resources, construction and housing, ICT and telecom, manufacturing, consumer packaged goods and retail, safety and security, transportation, energy and environment, education, trade, and chemicals industries. ProEdTech regularly provides professionals the opportunity to get answers to their most complex questions directly from experts, without having to attend costly live conferences. To learn more, visit: http://www.proedtech.com/.
Share article on social media or email: