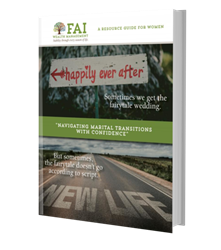 "It's our goal at FAI to be a trusted sounding board and to help each of our clients make the best decisions for their specific situation. This new e-book is the latest example of the supportive information we offer to help people successfully navigate life's many changes."
COLUMBIA, Md. (PRWEB) July 24, 2018
FAI Wealth Management, a leading financial planning and investment management firm in the Baltimore-Washington region, has announced the release of its latest e-book, "Navigating Marital Transitions with Confidence." The resource was developed by Lyn Dippel, JD, CFP®, FAI's President and CEO, along with Mark Stinson, CPA, CFP®, MBA, Principal and Senior Advisor for FAI, to help guide individuals facing a marital transition, whether it's a first or second marriage, or divorce. Given the rapidly increasing number of "gray divorces"—those divorcing after age 50 —along with the recent uptick in later-life second marriages, the new e-book offers supportive information to help navigate the challenges that often accompany these life changes.
The facts surrounding later life marital transitions in America are often surprising:
As life expectancy increases, those who are in unsatisfying marriages are less willing to stick it out than they were just a few years ago.
Among U.S. adults ages 50 and older, the divorce rate has roughly doubled in the past 25 years, according to reports by the Pew Research Center.
69% of divorces among "gray" couples are initiated by women.
Executives have a significantly higher than average divorce rate, perhaps due to the demands of their positions, including long hours and extended time away from family.
FAI Wealth Management recognizes that many people are thrust into challenging marital situations without any advance notice or preparation. They are often blindsided by the number and complexity of necessary decisions and are unaware of the financial tolls these transitions can have on their personal and business assets. For decades, FAI's compassionate, knowledgeable team of advisors has helped hundreds of individuals to step into their new phase of life with confidence. Whether people are in divorce proceedings or are already divorced, the firm's professionals help them gain a clear picture of their current monetary situation and create value-driven financial strategies to meet their new lifestyle goals.
"Having experienced divorce personally, I am intimately familiar with the complex and overwhelming array of decisions facing executive women during this transition," says Dippel. "It's our goal at FAI to be a trusted sounding board and to help each of our clients make the best decisions for their specific situation. This new e-book is the latest example of the supportive information we offer to help people successfully navigate life's many changes." Download your free copy of the "Navigating Marital Transitions with Confidence" resource guide here.
About FAI Wealth Management, Inc.: Located in Columbia, Maryland, FAI focuses on helping clients create the financial future they desire by protecting their wealth, making the most of their assets, and planning for life's uncertainties. The firm combines fee-only, fiduciary-driven guidance with highly personalized, consultative financial planning and investment services that enable individuals, families, and businesses to navigate complex life transitions. Founded in 1987, FAI currently manages more than $350 million in client assets nationwide. For more information about FAI Wealth Management, please visit the website at https://www.faiwealth.com or call 410.715.9200.
Share article on social media or email: