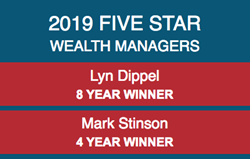 "Mark and I are humbled to again be a part of this year's prestigious group of award-winning advisors. We consider it a great privilege to help our clients achieve their financial goals and gain confidence in their futures."
COLUMBIA, Md. (PRWEB) February 05, 2019
FAI Wealth Management, a leading fee-only wealth management firm in the Baltimore-Washington region, announced that Five Star Professional has again recognized Lyn A. Dippel, JD, CFP® and Mark Stinson, CPA, CFP®, MBA, with the prestigious Five Star Wealth Manager award. FAI is renowned for their highly consultative approach to sound financial guidance, and the receipt of the 2019 Five Star award is further testament to Ms. Dippel's and Mr. Stinson's commitment to exceptional client service. This is the eighth Five Star Wealth Manager award for Ms. Dippel and the fourth for Mr. Stinson.
Founded in 2003, the Five Star Award program is the largest and most widely published award program in North America, covering more than 45 major markets. Five Star Professional employed a rigorous research and selection process to identify the Five Star Wealth Manager award winners for the Baltimore area. Award-winning professionals were carefully chosen from among thousands of wealth managers for their knowledge, service, and experience. They represent an exclusive group of wealth managers who have demonstrated excellence in their field by satisfying ten objective evaluation criteria that are associated with wealth managers who provide superior quality services to their clients. Factors taken into account include assets under management and client retention rate. Candidates also undergo a thorough regulatory and complaint review.
FAI's winners were honored to have been selected for the award. "Mark and I are humbled to again be a part of this year's prestigious group of award-winning advisors, "said President and CEO Lyn Dippel. "We consider it a great privilege to help our clients achieve their financial goals and gain confidence in their futures."
About FAI Wealth Management, Inc.: Located in Columbia, Maryland, FAI focuses on helping clients create the financial future they desire by protecting their wealth, making the most of their assets, and planning for life's uncertainties. The firm combines fee-only, fiduciary-driven guidance with highly personalized, consultative financial planning and investment services that enable individuals, families, and businesses to navigate complex life transitions. Founded in 1987, FAI currently manages more than $350 million in client assets nationwide. For more information about FAI Wealth Management, please visit the website at https://www.faiwealth.com or call 410.715.9200.
Share article on social media or email: