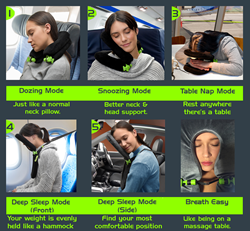 FaceCradle is the best option for sleep other than a flat bed seat
MELBOURNE, Australia (PRWEB) December 19, 2017
With the advent of 3D laser measuring and printing, copycats can cut tools, manufacture and globally distribute, faster than new product inventors can get a retailer appointment.
IP thieves knowingly replicate successful inventions, profiting while the inventor waits for the patent approval. This can take 30 or more months to grant. Fortunately, Hairy Turtle Pty Ltd, the owners of FaceCradle Travel Pillow, have accelerated examination of their US patent application 15/479,148 and have now received a Notice of Allowance from the USPTO.
FaceCradle is a breakthrough in Economy Class travel enabling consumers to experience extended hours of sleep in transit. After receiving over 200M views of its video on Facebook, setting all-time records on Kickstarter for the highest backed travel pillow and shipping over 120,000 units in just 6 months, intellectual property thieves pounced. This resulted in Red Points, Hairy Turtle Pty Ltd's appointed Intellectual Property tracking service, successfully requesting internet retailers to remove over 800 webstore pages, which used FaceCradle related IP, without their approval.
David Scrimshaw, Managing Director says "The Notice of Allowance from the USPTO is brilliant news for us. Together with our retail and distribution partners, we have made a significant investment in marketing and inventory. Protection of this investment is now bolstered and we can be confident we will not be undermined by IP theft." Hairy Turtle Pty Ltd have also lodged National Phase of their application under the International Patent Cooperation Treaty, in China, UAE, Singapore, Japan and Canada with Europe, Australia, South Korea and several others to follow shortly. "This will further increase our protection to stop the copycats at the manufacturing origin and in major airport and internet retail hubs," said Scrimshaw.
The reason FaceCradle is such a big improvement on other options is summarized as follows...
1. Many more comfort positions: When we sleep at night we can toss and turn up to 50 times. Shifting from one comfort position to another and trying multiple options, is important to gaining extended deep sleep. FaceCradle has 5 Modes, each with many adjustment positions and allows the user to find comfortable support anywhere in the full 180 degrees forward of the seatback.
2. Premise of Design: Most popular travel pillows are designed to provide support with the head upright. This is not how we sleep at night and it assumes sitting upright is the only way we can sleep in a seat, it is not! The first thing we instinctively do when trying to sleep in transit, is to get our head more horizontal. Neck pillows act as a hinge point at the neck, so as the head tilts over, all the weight load is transferred to the neck. This is a fundamental design flaw. In the mode FaceCradle calls "Snoozing", the head is supported higher up, not at the neck, so the comfort level is dramatically improved.
3. Support: When we doze off to sleep our body goes limp. That is the time you need to stay supported, like you do in your bed each night. The problem with most travel pillows is they either fall off you, or you fall off the pillow, as your body goes limp, then you wake, repeatedly. With FaceCradle, in most modes, you fall into the pillow and the geometric design holds you where you fall, less likely to wake. It results in extended hours of sleep in transit.
4. The Economy Class Environment: FaceCradle in many of its modes, enables a sleep position with your seatback upright. This means the person behind has more space and is less likely to bump your seat and disturb you. The person seated in front can put their seat back and you are still able to sleep comfortably. Unlike some recently popular, large blow up devices, you can quickly collapse your FaceCradle when the person seated next to you wants to exit or the meal service arrives. Once a FaceCradle user finds a comfortable position, that position is virtually pre-set, so if they are forced to get up they can return to their most comfortable position immediately. The built-in quick release in the harness assures vehicle operators and passengers of FaceCradles safety.
Scrimshaw is a winner of several international design awards in the USA and Australia and says "FaceCradle truly is an Upgrade to Sleeping Class. It is now recognised as a breakthrough in Economy Class travel and the best option for sleep in transit, other than a flatbed seat. FaceCradle and its IP protection, opens up incredible business opportunities," said Scrimshaw.
In a time when Airlines are challenged with cutting costs and increasing efficiencies, it is very difficult to make improvements to passenger comfort until FaceCradle. Gaining extended hours of sleep in transit is the best way to ensure passengers arrive rested and happy.    
Airlines who act quickly can lock away exclusive onboard, incentive based and on ground offers. FaceCradle provides the option to embroider a logo in the pillow which becomes a cost effective advertisment for airlines throughout airports and onto competitor flights.
Travel Ticketing agencies are now realizing they can offer FaceCradle as an Upgrade to Sleeping Class together with Accommodation, Rental Car, Travel Insurance and other add on packages.
"Airport, Train, Bus and Ferry Terminal Retailers have stocked the same old neck pillows for decades but when you compare the volume of passengers to the sale quantity of neck pillows, it shows a very low acceptance by the traveler.
FaceCradle is ergonomically and geometrically superior to any other travel pillow so the predicted sales trend becomes obvious. In our view, nobody should travel long haul Economy Class without one," said Scrimshaw. With the millions of views of FaceCradle on social media, Retailers have a unique opportunity to present the product front and center.
Intellectual Property Protection for FaceCradle means business partners can structure valuable exclusive long term deals. The benefit of sleep during transit has almost endless commercial benefits.
For further information contact Hairy Turtle Pty Ltd or visit the FaceCradle website.