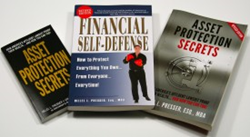 For every 60 minutes you spend making money, spend 60 seconds thinking about how to protect it!
BOCA RATON, Fla. (PRWEB) December 28, 2017
The Limited Liability Company ("LLC") is a great business entity to use for protecting real property whose main purpose is to be used for rental to third parties (investment purposes). However, it is important to note that the Limited Liability Company is typically used as a compliment to the foundation of an Asset Protection Plan, and should not be used on its own.
1. Limited Liability Company Defined
The Limited Liability Company is a unique business structure that was initially created to promote the separation of the members of the LLC and the LLC itself (pending proper formalities are followed). The LLC can be seen as a combination of the traditional corporation and the partnership. Each state has its own Limited Liability Company Act, however, most states follow comparable laws with regard to the formation and operation of the Limited Liability Company.
2. Why Rental Real Estate Poses a Risk to Real Property Owners
Real property used for rental are particularly important to protect against because such assets are "liability assets." Liability assets create risks of lawsuits because any third party occupying such rental real estate may potentially sue for one claim or another. There is an inherent liability tied to such ownership and the operation of a rental real estate business as opposed to simply owning property without renting it out.
3. Advantages of the Management Limited Liability Company
It is prudent, in many cases, to use a management Limited Liability Company entity to manage such rental real estate. The management Limited Liability Company should be its own separate and distinct entity and should manage the operations of the rental property rather than the owner managing it individually. The more removed the individual owner of the rental real property is from the rental real estate business (with regard to using layering Asset Protection techniques) the less liability exists.
4. Advantages of Using a Holding Company Structure
Accordingly, it is also smart to use holding company entities as the owners of the LLC's, which, in turn, own the rental real estate. A holding company structure creates a layer of ownership, thereby creating a layer of protection. Determining which type of holding company structure to use is entirely dependent on a particular individual's assets and should be decided by an experienced and knowledgeable Asset Protection professional.
5. Advice on Who Would Make the Ideal Candidate to Take Advantage of International LLC in Their Asset Protection Planning
International Limited Liability Companies are useful in some cases as well. Most people who go internationally with their money are those with enough wealth to make it worthwhile. Business owners fit very well into this category. Professionals with growing businesses also fit well into this group. These people rightfully want appreciably stronger protection than domestic or U.S.-based entities can provide.
The Presser Law Firm P.A., Asset Protection Attorneys, represents individuals and businesses in connection with the establishment of comprehensive Asset Protection plans that incorporate both domestic and international components.
Visit the Law Firm's Visit the Law Firm's website (http://www.AssetProtectionAttorneys.com) for access to educational material on asset protection, business law, estate planning, and probate including webinars, articles and detailed legal explanations.
Contact The Presser Law Firm, P.A., Asset Protection Attorneys for a Complimentary Preliminary Consultation with one of our attorneys or to receive complimentary copies of our latest best-selling books on Asset Protection.
"For every 60 minutes you spend making money, spend 60 seconds thinking about how to protect it!" states attorney Hillel L. Presser, Esq., MBA regarding the importance of protecting your assets proactively.
Share article on social media or email: