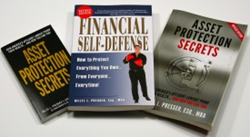 For every 60 minutes you spend making money, spend 60 seconds thinking about how to protect it
Boca Raton, Florida (PRWEB) October 31, 2017
Real Estate investing has accelerated in the past few decades. Your Estate Plan and Asset Protection plan must account for real estate holdings. Any property other than your personal residence should almost always be owned by a Limited Liability Company ("LLC"). Your personal creditor cannot claim properties owned by an LLC because you do not own the property personally. A good Asset Protection plan titles each property to a separate LLC.
1.    Asset Protection Defined
Asset Protection is defined as the legal process of protecting assets (personal and business) using domestic and international strategies to put them beyond the reach of future potential threats and creditors. Protection strategies range from the simplest to the most complex. A good candidate for Asset Protection is an individual or business with any assets of value. An individual can also start with a basic domestic Asset Protection plan and upgrade to an International plan as their net worth grows.
2.    Estate Planning Defined
Estate Planning is the legal process of planning for the disposition of assets to intended beneficiaries (children and family members) at death. Estate planning typically includes incapacity planning documents and dispositive documents. Incapacity Estate Planning documents include the durable power for health care, durable power of attorney for finances and a HIPAA Release. The dispositive Estate Planning documents include the last will and testament and the revocable living trust. Estate planning could also include advanced estate planning strategies such as the irrevocable trusts and similar tools.
3. Asset Protection for Real Estate Holdings
Asset Protection strategies include the formation of holding companies that keep assets that create liability away from non-liability producing assets (such as cash, checking and savings). For instance, a limited partnership can be used hold checking and savings accounts, however, liability producing assets, such as real estate typically should not be held by the limited partnership. Real property (except for your primary residence) should always be owned by a limited liability company. If you own five rental properties, title each property to a separate LLC.
4. Integrated Estate Planning for Real Estate Holdings
Asset Protection without Estate Planning is incomplete planning. Integrated planning includes combining Asset Protection strategies with Estate Planning strategies to protect assets during lifetime and ensure that they end up with intended beneficiaries at death. An individual's Estate Plan is coordinated with their Asset Protection (along with a Business Succession Plan). Integrated Estate Planning allows an individual to anticipate future potential issues that may affect their business and/or personal assets and create contingency planning for them.
The Presser Law Firm P.A., Asset Protection Attorneys, represents individuals and businesses in connection with the establishment of comprehensive Asset Protection plans that incorporate both domestic and international components.
Visit the Law Firm's Visit the Law Firm's website (http://www.AssetProtectionAttorneys.com) for access to educational material on asset protection, business law, estate planning and probate including webinars, articles and detailed legal explanations.
Contact The Presser Law Firm, P.A., Asset Protection Attorneys for a Complimentary Preliminary Consultation with one of our attorneys or to receive complimentary copies of our latest best-selling books on Asset Protection.
"For every 60 minutes you spend making money, spend 60 seconds thinking about how to protect it!" states attorney Hillel L. Presser, Esq., MBA regarding the importance of protecting your assets proactively.
Share article on social media or email: