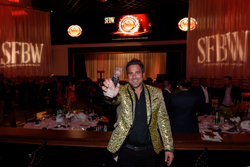 BOCA RATON, Fla. (PRWEB) February 11, 2019
Evan Golden, Chief Marketing Officer with the full service Law Firm The Berman Law Group, was recently honored by South Florida Business & Wealth magazine at the publication's 2018 Apogee Awards. Mr. Golden was selected as the CMO honoree for Palm Beach.
"Our team takes pride in the work we do and it is such an honor to be recognized. We incorporate so many local non-profit organizations in our marketing endeavors and events that desperately need exposure and awareness, so it's very fulfilling and meaningful work." said Evan Golden, CMO of The Berman Law Group
Golden joined The Berman Law Group in 2014 and has nearly 20 years of experience in video production and event marketing in the advertising field.
"We are thrilled that South Florida Business and Wealth recognized Evan's personal and professional accomplishments and honored him with this award," said Theodore Berman, Managing Partner at The Berman Law Group. "He is a great asset to the team and the South Florida community."
The Apogee Awards is a unique awards program created by South Florida Business & Wealth magazine to recognize distinguished leaders who hold positions in the C-Suite of companies. The honorees included a select group of individuals in South Florida whose dedication to their occupation and to their industries and communities deserves particular recognition. South Florida Business & Wealth, a publication of Lifestyle Media Group, is the leading provider and trusted resource for business and economic information affecting the region.
"We are gratified with the opportunity of honoring people who have made such an impact on the world of business and our community. Evan Golden is the ideal honoree who has accomplished so much professional and personally." says Gary Press, Chairman and CEO of Lifestyle Media Group.
Mr. Golden has helped lead the strategic growth and marketing direction of The Berman Law Group, and was directly involved in developing the firm into a multi-office Florida practice as well as expanding the entertainment and charitable divisions. The Firm's tag line is "Committed to the Community" and philanthropic arm of the firm, The Berman Family Foundation, has raised money and awareness for many local non-profit organizations from the firms signature fundraising charity events.
Among his professional achievements, Evan Golden is Nominated for Real Men Wear Pink Campaign Supporting the American Cancer Society. Golden was also recognized as a "South Florida Young Leader in Philanthropy by Simply the Best Magazine. He is also the on-air talent for Eye on South Florida, a video production company covering many charity events in South Florida.
About The Berman Law Group
Established in 2008, the Florida personal injury attorneys the Law Offices have quickly garnered a well deserved reputation as indefatigable and fearless defenders of the rights of their clients. With offices in Boca Raton, Deerfield Beach, Orlando, Gainesville and Stuart, a driving desire to be among the top attorneys in Florida, and serving clients throughout Florida, we strive to treat you like our friends and neighbors, working diligently to identify and understand your personal and specific wants and needs. The Florida lawyers at The Berman Law Group believe that developing this bond with you enables us to maximize your recovery and bring your personal injury case to a satisfactory close. We understand the stress and uncertainty facing those who have been injured through the negligence of others, and have great compassion for the physical, emotional and financial problems that often follow an accident, causing families to suffer, and work diligently to provide you with the legal strategy and tools you need for success.
Share article on social media or email: