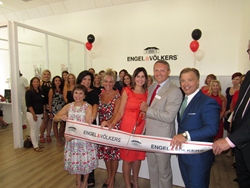 Charlotte, North Carolina (PRWEB) September 26, 2017
Engel & Völkers Lake Norman announced today that Danae Caulfield, local leader and real estate expert, will join their newly opened office in Birkdale Village as Broker-in-Charge.
"I am happy to announce the addition of Danae [Caulfield] to our team," stated Owner, Yuriy Vaynshteyn. "Her knowledge of the Lake Norman market and fine-tuned leadership skills will allow us to grow while advancing the careers of our existing advisors."
Caulfield's real estate career spans over 20 years in both residential and commercial markets and she currently holds her Senior Residential Specialist (SRES®) designation and is a member of the Institute for Luxury Home Marketing (ILHM®). Before starting her career in real estate, Caulfield proudly served in the U.S. Air Force and worked for IBM in their Research and Development Operations. In addition, she served as the Town Commissioner for Huntersville, was a candidate for the NC House District 92 seat, and has served on many boards for local government and the Realtor® Association.
"I strongly believe in community service and I have the passion to make a positive difference in the lives of others," states Caulfield. "I am thrilled to join this organization because we do not just specialize in luxury real estate and fine homes. We take luxury service to a whole new level, regardless of price point."
Caulfield joins the existing leadership team at Engel & Völkers Charlotte which is comprised of Owner, Yuriy Vaynshteyn; Executive Vice President, Frances Bryant; Vice President, Sue Fessler; and Vice President and Broker-in-Charge, Laurie Knudsen. The team has led the expansion of the brand in the Charlotte market over the past two years and has seen a tremendous amount of growth. Engel & Völkers Charlotte's second location in Uptown Charlotte launched in March 2017 to complement the existing Ballantyne location. The firm opened its Lake Norman shop in Birkdale Village just last month.
About Engel & Völkers
Since its beginning in 1977 as a specialty boutique providing exclusive, high-end real estate services in Hamburg, Germany, Engel & Völkers has become one of the world's leading companies specializing in the sale and lease of premium residential and commercial property, yachts and private aviation. Engel & Völkers currently operates a global network of over 8,500 real estate advisors in more than 750 brokerages spanning 32 countries across five continents, offering both private and institutional clients a professionally tailored range of luxury services. It established Engel & Völkers North America in 2007 and assembled a team of the industry's top leaders, performers and real estate innovators to expand operations in the U.S., Canada and Mexico. Committed to exceptional service, Engel & Völkers supports its advisors with an array of premium quality business services; marketing programs and tools; multiple platforms for mobile, social and web; as well as access to its global network of real estate professionals, property listings and market data. Engel & Völkers is an active supporter of the Fair Housing Act and the Equal Opportunity Act. Each brokerage is independently owned and operated.
Share article on social media or email: