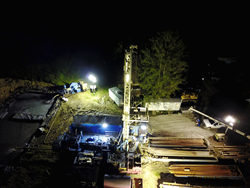 The Berea Oil play represents nearly 25% of Kentucky's annual oil production and has become the most prolific shallow oil play in the state.
BOWLING GREEN, Ky. (PRWEB) May 24, 2018
Encore Energy, Inc. is preparing to drill multiple horizontal Berea wells in Lawrence County, Kentucky. "Qualified SEC defined accredited investors can deduct 100% of their investment against all forms of state and federal income this year, in 2018. This typically results in a ~40 - 50% immediate tax savings with potential for many years of potential monthly income", said Joseph Hooper, Encore's Executive Vice President and Director. "We remain very confident in the continued growth in demand and a strong recovery for the price of crude oil", added Hooper.
The horizontal Berea play of Eastern Kentucky represents more than 20% of the state's annual oil production and is regarded as the best shallow horizontal oil play in Kentucky. "Encore is currently making plans to drill the vertical top-holes at multiple well locations in preparation for horizontal well operations", said Steve Stengell, Encore's President CEO. "The Company's proposed horizontal well locations are positioned as immediate and moderate off-sets to proven production and permit activity for the Berea play", added Stengell.
Encore's investment offering(s) are each a federal covered security operating under an exemption from registration, SEC Regulation, Rule 506-C, which is regulated by the SEC and made available only to SEC defined accredited investors who are sophisticated and can afford the loss of their entire investment.
For more information regarding the 2018 tax deduction and to see if you qualify as an SEC defined accredited investor, please contact Joseph Hooper at (270) 745-0132 and be sure to read the most recent article from Energy and Mining International magazine regarding Encore Energy, Inc. and its Berea oil program at http://www.encoreenergy.com/Energy%20&%20Mining%20International%20Encore%20Berea%20Oil%20Article.pdf
Share article on social media or email: