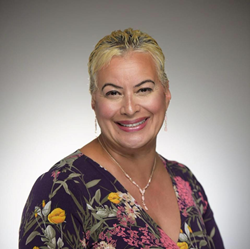 "When I grew up, I became the voice for my family, especially for my two hearing-impaired sisters and for my parents who knew little English. My experiences became the reasons why I started Metaphrasis and became a language advocate. Everyone deserves a voice at the table."
ELGIN, Ill. (PRWEB) September 28, 2020
Metaphrasis Language & Cultural Solutions, LLC CEO Elizabeth Colón was one of several honorees honored during the Daily Herald Business Ledger's annual Entrepreneurial Excellence Awards. The virtual ceremony was held on Sept. 24.
The Ledger's awards recognize and build entrepreneurship in Cook County, DuPage County, Kane County, Lake County, McHenry County and Will County. Honorees demonstrate the best traits of entrepreneurship, including willingness to take risk, drive, perseverance and business creativity.
The publication recognized Colón, a Frankfort, Illinois resident and the first Latina president for the Chicago Chapter of the National Association of Business Owners (NAWBO), in the Outstanding Service to Entrepreneurs Category. This award recognizes honorees that exhibit a strong commitment to helping entrepreneurs in a variety of industries. These honorees provide entrepreneurs with the resources they need to give our community its competitive edge. Examples of candidates would be attorneys, accountants, consultants, teachers and others who work with entrepreneurs.
Colón runs the Chicago-based Metaphrasis Language & Cultural Solutions, LLC an award-¬winning company that provides professional translation and interpreter services to its business clients.
"This award is a great honor for me because it demonstrates how much our business helps clients everyday with our services," she said. "When I grew up, I became the voice for my family, especially for my two hearing-impaired sisters and for my parents who knew little English. My experiences became the reasons why I started Metaphrasis and became a language advocate. Everyone deserves a voice at the table."
About Metaphrasis:
At Metaphrasis, we provide professional translation services and interpreter services in Chicago and around the country to ensure that people are understood completely. It is not enough to simply translate the words of a document or conversation; words and phrases have meaning and context behind them that a literal translation may miss. Our interpreters and translators will understand and account for contexts and meanings for complete accuracy.
Through our language translation services, we can translate important documents including legal and medical documents, websites, video and audio transcripts, Braille, sign language, and more. We can also help businesses and institutions by providing interpreters to be at their side in everyday operations, to the biggest conferences and events. For information, visit https://metaphrasislcs.com/.
Share article on social media or email: