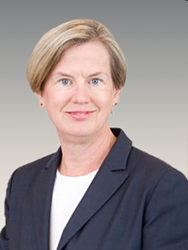 PHILADELPHIA (PRWEB) September 04, 2018
Panitch Schwarze Belisario & Nadel LLP is proud to announce that trademark counsel Elizabeth Ann "Betty" Morgan has been appointed to co-chair IP Subcommittee of the American Bar Association's Alternative Dispute Resolution Section for the upcoming year. Before being appointed to this position, Morgan was an active member of the American Bar Association in the section for intellectual property law and section for alternative dispute resolution.
An experienced trademark attorney with deep experience in ADR, Morgan has been a party representative, mediator or arbitrator in more than 100 matters. She serves as a panelist for the American Arbitration Association (AAA) and National Arbitration and Mediation (NAM) and serves as chair of the North America Subcommittee of the Alternative Dispute Resolution (ADR) Committee of the International Trademark Association (INTA). She was invited to join the peer-reviewed International Institute for Conflict Prevention and Resolution (CPR) as a mediator where she is a member of the Trademark Panel, Entertainment Panel, Employment Panel and Philadelphia ADR Panel.
She also serves on INTA's Panel of Mediators and is a neutral with the World Intellectual Property Organization (WIPO). As a Financial Industry Regulatory Authority (FINRA) public arbitrator, Morgan is injunction-qualified and has served as a panel chair.
Morgan is board certified by the Florida bar, specializing in intellectual property law. She is admitted to the Pennsylvania bar as well as all federal district courts in Florida and Georgia, to the Eleventh Circuit Court of Appeals and to the United States Supreme Court.
About Panitch Schwarze Belisario & Nadel LLP – Panitch Schwarze Belisario & Nadel LLP is a boutique intellectual property law firm with offices in Philadelphia and Wilmington, Delaware. The firm's IP law practitioners provide strategic litigation, licensing and counseling service relating to patents, trademarks, copyrights and trade secrets, domain names and internet issues domestically and internationally. The firm's long-standing relationships with a network of associates worldwide enable its attorneys and advisors to provide clients with global intellectual property advice and protection.
Share article on social media or email: