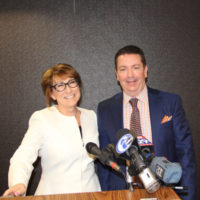 "We believe that the prejudices and the bias against holistic medicine weighed heavily in the minds of the decision-makers of AtlantiCare," attorney Michelle Douglass said. "All he did was honor the patient, Mr. Johnson's wife, her refusal to a procedure."
ATLANTIC CITY, N.J. (PRWEB) June 05, 2019
An Atlantic County jury has ruled in favor of paramedic Michael Senisch, who was fired after he honored the wishes of one of his patients to refuse treatment. The case, Michael Senisch v Alanticare, docket ATL-L-2132-16, was heard in the Superior Court of New Jersey, Atlantic County. Mr. Senisch was represented by co-counselors Michelle Douglass of the Douglass Law Group and Philip Burnham of Burnham Law Group, LLC. The wrongful termination claim was brought under the New Jersey Conscientious Employee Protection Act (CEPA), which prohibits employers from retaliating against employees who engage in certain protected actions.
Case Background
According to court documents, Mr. Senisch and a fellow paramedic visited the home of Brian and Wendy Johnson in February 2016. Ms. Johnson had a severe infection but declined to let the paramedics place an IO intraosseous infusion in her arm. The process entails using a drill-like device to insert a catheter into a patient's bone to deliver fluids or medications.
Instead, Mr. Senisch administered a holistic treatment known as Reiki to Ms. Johnson after learning she preferred holistic approaches over traditional medicine. Mr. Senisch claims physicians reprimanded him for not inserting an IV or IO, and he was fired shortly after the incident. All of the allegations set forth by the plaintiff can be attributed to Mr. Senisch's Complaint and court documents.
Mr. Senisch brought a legal claim against AtlantiCare, claiming his firing was in violation of New Jersey's CEPA law.
After a trial that lasted over two weeks, the jury agreed that Mr. Senisch was wrongfully terminated from his position as a paramedic, a position he held unblemished for 34 years.
He was awarded back pay and $90,000 in damages for emotional distress. This decision paves the way for Mr. Senisch to seek equitable relief with the Court to have his position as a paramedic reinstated. His attorneys from Douglass Law Group and Burnham Law Group will return to Court to seek reimbursement for legal fees and costs and prejudgment interest of $800,000.
Attorneys at Douglass Law Group and Burnham Law Group, LLC fight for those who have been treated unfairly in the workplace. Contact the experienced South Jersey employment lawyers at Douglass Law Group at 609-788-3595 or Burnham Law Group LLC at 856-751-5505. Free consultations our offered at the law offices conveniently located in Marlton and Somers Point, New Jersey.
Share article on social media or email: