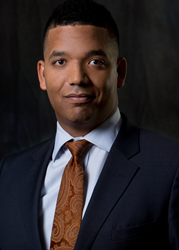 PORTLAND, Ore. (PRWEB) January 04, 2018
Damien R. Hall has been named a Partner of Ball Janik LLP effective January 1, 2018. Hall is Chair of Ball Janik LLP's Land Use and Real Estate practice groups. He represents both property owners and local governments, helping them navigate Oregon's unique land use requirements and political sensitivities to controlled growth and land development. His approach is based on working collaboratively with developers, local government, and communities to establish common objectives and achieve development goals. Hall's background is in urban planning and development, and in addition to his land use practice, he regularly assists clients with renewable energy projects, real estate transactions, natural resources law, and municipal law. He was recognized in 2016 by Portland Business Journal's esteemed "Forty Under 40."
Mr. Hall is actively involved in real estate and community development issues in Portland. He is a member of the Board of Directors for Portland Community Reinvestment Initiatives, Inc. (PCRI) and the Prosper Portland's Central City Budget Advisory Committee. Hall is also on the Board of Commissioners of Home Forward and the Metropolitan Exposition Recreation Commission, to which he was appointed by the Portland City Council and Metro Council, respectively. Additionally, he was appointed in November 2014 to the Board of Directors for CareOregon, a nonprofit providing health plan services to four Coordinated Care Organizations, serving about 250,000 Oregonians. CareOregon's vision is healthy communities for all individuals, regardless of income or social circumstance.
About Ball Janik LLP
Ball Janik LLP is a Pacific Northwest law firm headquartered in Portland, Oregon, with an office in Orlando, Florida. For over thirty years, Ball Janik LLP has been providing outstanding legal services in the areas of bankruptcy and creditor rights, commercial litigation, construction and design, construction litigation, employment, real estate and land use, insurance recovery for policyholders, and securities litigation.
Ball Janik LLP represents large and small businesses; state, municipal and local governments; associations; schools and universities; and individuals. Ball Janik LLP provides clients an aggressive, skilled, team approach to solve problems and achieve results. Ball Janik LLP has been recognized by Chambers USA, U.S. News & World Report and Best Lawyers®, The Best Lawyers in America©, and Corporate International. Ball Janik LLP's success and integrity have repeatedly made it one of "Oregon's Most Admired Professional Firms," according to the Portland Business Journal's survey results of CEOs throughout the region.
Share article on social media or email: