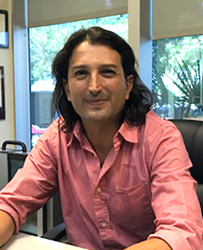 Alejandro brings his vast expertise in project management, logistics, scheduling and installation to Crawford-Tracey, we are excited to have him on our team
Deerfield Beach, Fla (PRWEB) September 30, 2017
Crawford-Tracey Corporation, the largest glazing contractor based in Florida, specializing in unitized and pre-glazed curtain wall and window wall products, has hired Alejandro Ossa as General Manager. Ossa will lead the Project Management, Drafting and Engineering Departments and will report directly to Ray Crawford, President, Crawford-Tracey Corporation.
Ossa's new position is part of Crawford-Tracey's new organizational structure to support the company's growth through operational excellence and client focus. Ossa brings over 20-years of project management and operational experience in the glass and glazing industry.
"Alejandro brings his vast expertise in project management, logistics, scheduling and installation to Crawford-Tracey, we are excited to have him on our team" says Ray Crawford. "Our new organizational structure will strategically position us to continue to provide unparalleled support and service for our clients. It will allow our business to function at a higher level and continue to grow profitably, while maintaining our level of quality"
For more information on Crawford-Tracey visit http://www.crawfordtracey.com.
# # #
About Crawford-Tracey Corporation – Founded in 1956, Crawford-Tracey Corporation has become the largest contract glazier based in the state of Florida, the company offers a complete line of impact and non impact-resistant window and door products. Crawford-Tracey designs, manufactures and installs all of its products. Crawford-Tracey developed, tested and installed the first impact-resistant, four-sided, structurally glazed system in the United States and continues to offer high-performance products to meet specific project needs.
Crawford-Tracey's corporate headquarters is located in Deerfield Beach, Fla., with a second facility in Jacksonville, Fla. For additional information on Crawford-Tracey products and services, visit http://www.crawfordtracey.com, or call 954-698-6888.
Share article on social media or email: