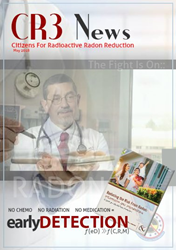 earlyDetection ... How do we get there?
WATERLOO, Ill. (PRWEB) May 07, 2018
In honor of the cancer awareness campaigns throughout the world that are bringing about new education on clinical trials, targeted therapy and big data, CR3 News Magazine's Early Detection medical issue focused on providing readers with more explanation of what those terms mean and the impact they will have on new cures.
Citizens for Radioactive Radon Reduction (CR3), a non-profit radon awareness organization offered insight into what the medical community is doing regarding this new precision medical technology and why people need to get involved.
"There are people out there who have been diagnosed with Lung Cancer and are deemed Stage 1. Why? What's the key? How do we get there?", says Jacquelyn Nixon, a Stage 1 radon-related lung cancer survivor herself who was operated on and walked away with a completely clean diagnosis. No Chemo, No Radiation and No Medication. "The doctor said just walk, walk, walk! What were the key factors that took me down that road as opposed to the other?", she said. "We need to not only tell people; but show them that there are things they can do to help prevent more severe lung cancer outcomes."
CR3 is a supporter of The National Institutes of Health, All of Us Research Program; a historic effort to gather data to accelerate research and improve health, from one million or more people living in the United States. By collecting individual differences in lifestyle, environment and biology, researchers will be able to uncover paths toward delivering more precise medical techniques. Jacquelyn joined the research program because she knew her outcome was special and the keys to that outcome might unlock the door to life for someone else.
Citizens for Radioactive Radon Reduction will be taking up the gauntlet to educate people about the importance of joining the AllOfUS Research Program. "The National Institutes of Health has clearly stated the importance of radon reduction, the health effects and outcomes," says Gloria Linnertz, Director of CR3. "This new program will only improve the lung cancer diagnoses and outcomes related to radon gas exposure."
View Medical Edition: https://joom.ag/kYPY
Contact Information
Gloria Linnertz, Director
Citizens for Radioactive Radon Reduction
http://www.citizens4radonreduction.org
(618) 830-4660
Jacquelyn E. Nixon, Publisher
CR3 News Magazine Issues
Citizens for Radioactive Radon Reduction
(412) 961-1980
Share article on social media or email: