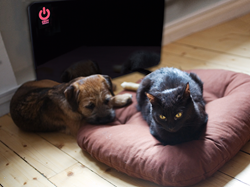 (PRWEB) November 02, 2017
Cozy Products, a division of bird control company Bird-X, aims to warm up pets this winter with the launch of their latest products, the Cozy Pet Warmer and the Cozy Coop. While Bird-X is renowned for humanely moving birds away from harm and away from spreading disease to the public, Cozy Products brings products to consumers that will certainly not drive animals away. The Cozy Pet Warmer is great for homes that get chilly and drafty in the winter. Pet owners won't worry about turning the heat up in the whole house, but rather they can simply place the ETL-certified, zero clearance radiant heat panel on the ground and allow their pets to warm up next to it.
Zero-clearance items have been approved by the ETL to be mounted with 'zero-clearance', meaning they can be placed on or against combustible items without causing a fire hazard. Zero-clearance approval eliminates the need for a buffer zone and allows a heating unit to fit in small, tight spaces or to be mounted directly on walls, wood, paneling, etc.
Cozy Products® offers energy-efficient, low-watt personal heaters that conserve energy, prevent circuit overloads, and reduce the risk of fire. Founded decades ago and based in Chicago, USA, Cozy Products® strives for a superior level of quality.
For information on any Cozy Products® heaters or Bird-X humane pest control products, please call customer service at (800) 662-5021.
Share article on social media or email: