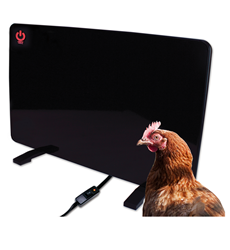 (PRWEB) December 06, 2017
Cozy Products®, a division of Bird-X, Inc., launched a contest this week in partnership with Kathy Shea Mormino, owner of The-Chicken-Chick.com, a website dedicated to the discussion of raising backyard chickens and to educate chicken enthusiasts everywhere.
Social media users can share Cozy Products® Facebook, Twitter, or LinkedIn post to automatically be entered to win a copy of Mormino's new book, "The Chicken Chick's Guide to Backyard Chickens". A winner will be chosen this Friday, December 8th.
Cozy Products® Cozy Coop is a highly recommended outdoor coop heating device for backyard chicken coops. An ETL Certified Zero-Clearance item, the Cozy Coop has been approved by the ETL to be mounted with 'zero-clearance', meaning it can be placed on or against combustible items without causing a fire hazard.
Cozy Products® offers energy-efficient, low-watt personal heaters that conserve energy, prevent circuit overloads, and reduce the risk of fire. Founded decades ago and based in Chicago, USA, Cozy Products® strives for a superior level of quality.
For information on any Cozy Products® heaters or Bird-X humane pest control products, please call customer service at (800) 662-5021.
Share article on social media or email: