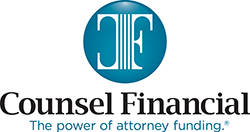 WILLIAMSVILLE, N.Y. (PRWEB) May 08, 2018
Counsel Financial, the nation's trusted leader in law firm financing, announced today that it will once again sponsor the upcoming Mass Tort Med School seminar hosted by HB Litigation Conferences. The program will take place May 9-11, 2018 in New York City.
Conference attendees will gather for an in-depth look into the scientific data and medicine supporting the largest mass tort litigations taking place. Some of the nation's leading litigation experts will give updates on current hot legal topics and call attention to new areas of litigation growing rapidly, such as the opioid crisis. In addition, the concurrent Class Action Mastery program will offer advice on how to navigate this complex area of the law.
Counsel Financial is set to co-host the conference's welcome reception, being held Wednesday, May 9 at the Knickerbocker Hotel's St. Cloud Rooftop. It will be a great opportunity for networking and camaraderie while enjoying the expansive, bird's-eye views of New York City's iconic Times Square.
Counsel Financial is the only law firm financing company exclusively endorsed by the American Association for Justice and The National Trial Lawyers, and continues to be the trusted source for law firm funding. The company's services extend beyond financing to include assistance with budgeting and financial analysis, industry insight and co-counsel introductions for its clients.
Share article on social media or email: